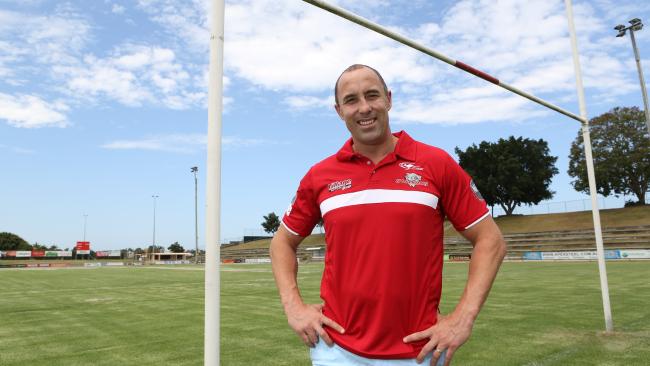 Adam Mogg says poor completions stopping Redcliffe Dolphins from sitting atop Intrust Super Cup
Redcliffe Dolphins coach Adam Mogg expected to be unbeaten on top of the Intrust Super Cup ladder by this stage of the 2016 season.
Despite taking the reigns of a team chock-full of players without prior combinations and facing an opening three months of away fixtures, his hard line stance galvanised the Dolphins squad so much so the they share the best defensive record in the league.
But Mogg said a diabolical completion rate was the main thing holding his side back.
It hovered around 50 per cent in losses to Townsville, Souths Logan and PNG and when they got it right, the Dolphins won five in succession.
Mogg's simple message was to have his players fix it if they wanted to feature deep into September.
"At the moment we've got, I would say, the poorest completion rate in the Queensland Cup. Over the first 9-10 weeks and the games we have lost, our completion rate has been 50 per cent," he said.
"I expected it to be, in all honesty, eight (wins) and zero (losses). I really did.
"I'm disappointed we've lost three, but we've still got lots of improvement."
Mogg has handed a top-grade Dolphins debut to centre Dan Randall in the absence of Aaron Whitchurch, who was injured playing for Queensland Residents last weekend for Sunday's match against Northern Pride in Cairns.
It will be the last away game before Redcliffe returns to Dolphin oval for the first time this season, under the shadow of a new grandstand.
But Mogg said it wouldn't be a magic solution his side's woes.
"At the end of the day you've still got to perform on the footy field," he said.
Source: Quest News