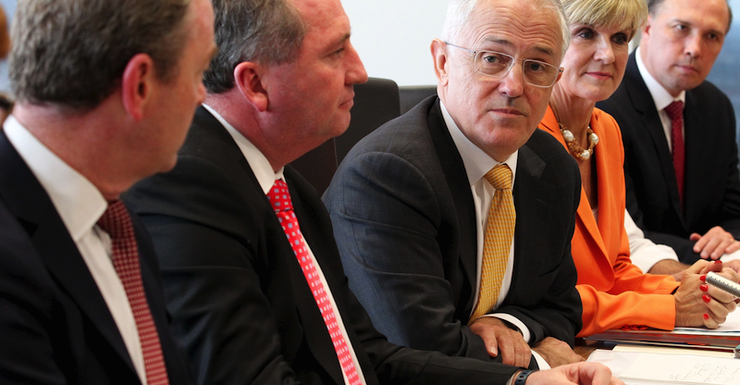 The budget surprise that could restore Turnbull's fortunes
Having backed down on other important reforms, the government seems to have one last knock-out punch left for budget day.
All the pieces look to be in place for a multi-billion-dollar nation-building surprise in Tuesday's budget.
A number of news stories published on Friday suggest beleaguered Prime Minister Turnbull has one more trick up his sleeve – perhaps his last chance to atone for embarrassing back-downs on reforms such as a GST increase or property tax reform.
Stories on Friday all but confirmed that a key pillar of the 2016-17 budget will be using the government's still AAA-rated balance sheet to raise cheap long-term money to fund infrastructure projects across the country.
These stories were an update on a report published in late March in the Fairfax papers, suggesting the government was planning to raise large amounts of money through bonds of up to 30 years' duration.
That would be more expensive that using, say, rolling issues of ten-year bonds which currently cost the government about 2.7 per cent a year.
However it would provide certainty for projects requiring long-term funding – and importantly, would capture low interest rates now before they inevitably rise in the years ahead.
Not to be outdone, the Greens also announced an infrastructure funding policy on Friday, calling for the creation of an Australian Infrastructure Bank.
A Greens spokesman told The New Daily that the government's approach was likely to be skewed more heavily to attracting private-sector capital, supplemented by cheaper public borrowings.
By contrast, the Greens' plan would be likely to involve larger direct investments of public money.
A policy for its time
We will have to wait until Tuesday for full details of the Turnbull government's plan, though it is expected to involve a similar principle to the 'infrastructure bank' plan floated by the Greens.
That is, it would use the federal government's balance sheet to raise cheap funds, and then on-lend that money to state and local governments – presumably through a thorough vetting process, similar to that suggested by the Greens (and explained in graphic form here).
Opinion is divided as to how large Australia's 'infrastructure' deficit is, but with recent estimates hovering around the $700 billion mark, there's no shortage of projects that offer sound productivity-enhancing returns to the nation.
But just as a homebuyer takes out one large loan to be paid back over 30 years, the government seems to have correctly identified 2016 as the right time to take out a mortgage for the nation.
That is not only because of the cheap rates long-dated bonds would capture right now, but also because the slump resulting from the end of the mining-investment boom looks to be worse that first thought.
That showed up in last week's shockingly low inflation data, and may well be confirmed by an RBA rate cut on budget day.
Keynesians, such as shadow treasurer Chris Bowen, will understand the logic of borrowing up big during a once-in-a-generation slump, and using public money to reposition the economy for a more productive recovery.
To say that Prime Minster Turnbull's back-bench is not teeming with Keynesians is more than an understatement – and if a genuinely stimulatory infrastructure plan is not in the budget, it will be that group that is victorious. That would preserve the Abbott-era 'debt and deficit' story, which was always driven more by ideology than by serious economic analysis.
It would be a pyrrhic victory for the Abbott loyalists, however.
The government has backed down on GST reform, on property tax reform and probably plans to look the other way on using tax cuts to address bracket-creep.
It is difficult, therefore, to think of any other knock-out policy the government could release next Tuesday.
For the time being, a big surprise seems the most likely option – and Prime Minister Turnbull's last chance to avoid the ignominy of spending less time in the top job than his predecessor.
Source: TND