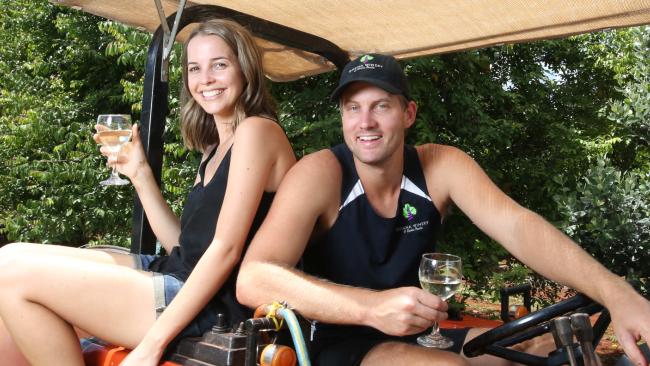 Southeast Queensland residents agree regional Queensland deprived of services and infrastructure
IT'S not just those from regional Queensland who think they're not getting their fair share of services and infrastructure; residents of southeast Queensland agree, exclusive new polling has found.
Some business community figures say the Budget figures back up the popular sentiment.
Almost 60 per cent of southeast Queenslanders believe the regions are short-changed by governments, a figure that grows to 72 per cent in regional Queensland, according to Galaxy polling for The Courier-Mail.
The University of Southern Queensland's Institute for Resilient Regions chief John Cole said there was a growing push for self-governance in regional Queensland as residents felt increasingly alienated by decisions being made in the capital city.
"As long as government and all the critical infrastructure are focused on the cities, of course these places are never going to develop," Prof Cole said.
"People don't feel that they're being involved in decision making."
An analysis of Queensland Budget figures by Cairns economist Bill Cummings, of Cummings Economics, showed the amount of money per capita being spent in the far north region had halved in recent years.
It showed State Government spending in the Cairns region dropped from $2968 per capita in 2012-13 to just $1360 last year, while Townsville saw a similar drop from $3385 to $1870 during the same period.
Congestion must be fixed
The only region with lower per capita spending than Cairns last year was Greater Brisbane, at $1026, though more significant sums were spent in other southeast areas, such as the Sunshine Coast and Toowoomba.
Mr Cummings said that while Cairns had benefited recently from a boost in tourism, this had been offset by a reduction in spending from governments.
"Instead of a lot of the benefits flowing through on the lower Australian dollar, it's not been happening because you've had the depression factor through lower government spending," he said.
Advance Cairns interim CEO Rob Giason said the call for fairer funds for the regions was an all-too-familiar one.
"Everyone is short of money, but there seems to have been some regions that have done particularly well," he said.
 "In real terms, the figures we're seeing over the last four to five years are of great concern to us as a growing community."
Townsville Enterprise CEO Patricia O'Callaghan said the Government needed to look for better ways of funding infrastructure in the regions, as well as encouraging more private sector investment
"We need to stimulate economic development opportunities in regional Queensland right now," she said.
"We need stimulus in new sectors while we wait for those traditional industries to recover.
"Now more than ever there's a role for governments to invest, which stimulates private investment and generates confidence in the community."
O'Callaghan said the Townsville stadium and entertainment precinct, investment in port and rail facilities, and the Galilee Basin were areas that federal and state governments could help.
Winemaker Zoe Young believes governments could be more innovative in how they treat ambitious regional Queenslanders determined to grow their small businesses.
Ms Young and partner Josh Phillips, both 28, own Ohana Winery near Childers, 300km north of Brisbane, and grow about 60 exotic fruit trees to make rare wines and liqueurs.
"We do pineapple wine, lychee wine and a macadamia liqueur, which I think is our most popular ever," she said of the couple's successful business, which also produces coffees and baked goods.
But Ms Young said regional life had its downside, and not merely in the lack of funding for roads such as the Bruce Highway, which carries the traffic that's much of her business's lifeblood.
Even State Government grants such as those available under the Ignite Funding scheme don't always account for her business's left-of-field approach, she says.
"We would love to access a little money to help better establish our business and perhaps start hiring a few people, but the rules in some of these grants don't really take into account what we are doing," she said.
Source: Courier-Mail