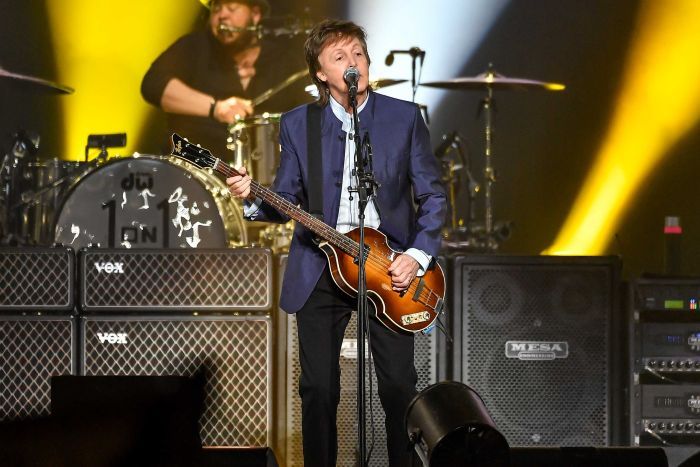 Sir Paul McCartney performs A Hard Day's Night for first time in 51 years
It opens with one of the most iconic chords in rock music's history — making it fitting that Beatles tune A Hard Day's Night was the song with which Paul McCartney opened the first show of his One On One tour.
It was the first time McCartney had performed the song — which features heavily on the soundtrack of the Beatles film of the same name — in half a century.
The show in Fresno, California also marked the first time McCartney had performed A Hard Day's Night as a solo artist.
He last performed the song with the Beatles at the Cow Palace in Daly City, California on August 31, 1965, according to Rolling Stone.
McCartney also played Beatles hits including Yesterday, Blackbird, Back In The U.S.S.R. and, for the first time in his solo career, Love Me Do.
McCartney paid tribute to producer and "Fifth Beatle" George Martin, who recently died, after performing Love Me Do, as it was one of the first tracks the band recorded with Martin.
McCartney performed more than 35 songs, a mixture of old and new from across his time with the Beatles and Wings, and his solo career.
He also performed a solo version of FourFiveSeconds, the collaborative track released in 2015 by McCartney, Rihanna and Kanye West.
The One On One tour will take McCartney across the United States and to Canada and Europe.
Source: ABC News