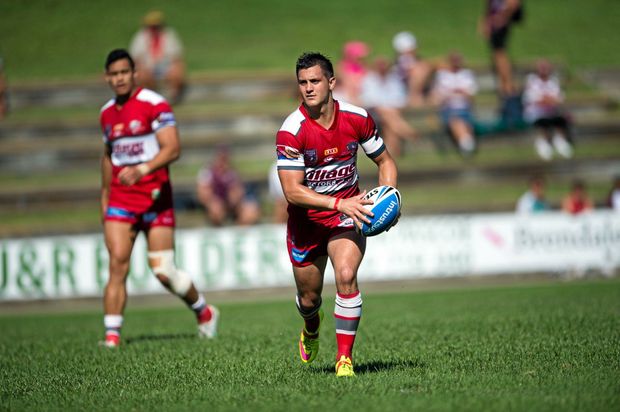 Redcliffe inflicts Heavy loss & delivers clear warning message to Ipswich Jets co-coaches
There is always a positive to take home for Ipswich Jets co-coaches Ben and Shane Walker.
That ability to find a silver lining will be in desperate need following the Jets 38-12 thrashing at the hands of the Redcliffe Dolphins on Saturday.
Co-coach Ben Walker said the Jets fourth loss from the first six rounds of the Intrust Super Cup had proved an important lesson.
"It's definitely not the result we were hoping for," Walker said.
"That's one of the worst (losses) in over 12 months."
Boosted by the return of Newcastle recruit David Fa'alogo, the Jets forward were always going to be tested by a damaging Dolphins forward pack led by new captain Sam Anderson.
Poor ball handling and a lack-lustre attack saw the Jets struggle to break into the game in the first half, and the Dolphins were quick to make the visitors pay.
Redcliffe piled on five tries to none and added 10 points off the boot of halfback Darren Nicholls.
Walker said the defeat was a clear message that something was not working in the Jets approach.
"We've known something has been wrong," he said.
"Both internally and from Shane and I's point of view, it was a lightbulb moment.
"We might have gotten more out of that loss than we would have from a win. We didn't get the two points, but you'll see a vastly different team next week."
Rather than place blame on his players performance, Walker was ready to shoulder the blame.
"As coaches we are going to tighten up and help the players," he said.
"The way we went about the loss and the rebuilding afterwards is the important part.
"We know what works and we know from here on out we'll be playing a style that works for us."
An improved effort from the Ipswich outfit, saw the Jets lead the second half 12-6.
However Walker refused to see the second half performance as a turn-around.
"It's still a loss," he said.
"You don't take into consideration the individual halves. I don't buy into that."
The win over the defending premiers was the third of the season for Redcliffe and Walker said it should put the competition on notice.
"I think they are the team to beat this year," he said.
"They've got a good side this year and they played really well against us (on Saturday)."
On Sunday the Jets host the win-less Wynnum Manly Seagulls at North Ipswich Reserve.
Both the Walkers and the Jets faithful will be hoping the Jets can learn from this weekend's result and turn their performance around against the cellar-dwellers.
State of play
Intrust Super Cup round 6: Redcliffe Dolphins 38 (Harley Aino, Darren Nicholls, Daniel Bridge 2, Jonus Pearson, Charlie Faingaa tries; Darren Nicholls 6 goals) def Ipswich Jets 12 (Rory Humphreys, Nathaniel Neale tries; Hayden Lipp goal) at Southpine Sports Complex, Albany Creek.
FOGS Colts round 6: Redcliffe Dolphins 34 (Sonny Munroe, Trai Fuller, Mitchell McPaul, Agnassi Stowers, William Partridge, Jacob Wise tries ; Reece Braun 5 goals) def Ipswich Jets 12 (Glen Brown, Paul Iopu, Billy Jackwitz tries) at Southpine Sports Complex, Albany Creek.
BRL round 1: Ipswich Jets 28 (Josh Damen 2, Mikaere Beattie 2, Matthew Brown tries; Mikaere Beattie 4 goals) def Redcliffe Dolphins 22 (Dan Randall, Kyle van Klaveren, Tyson Gamble, Tyson Cleal tries; Tyson Gamble 3 goals) at Southpine Sports Complex, Albany Creek.
Source: Queensland Times