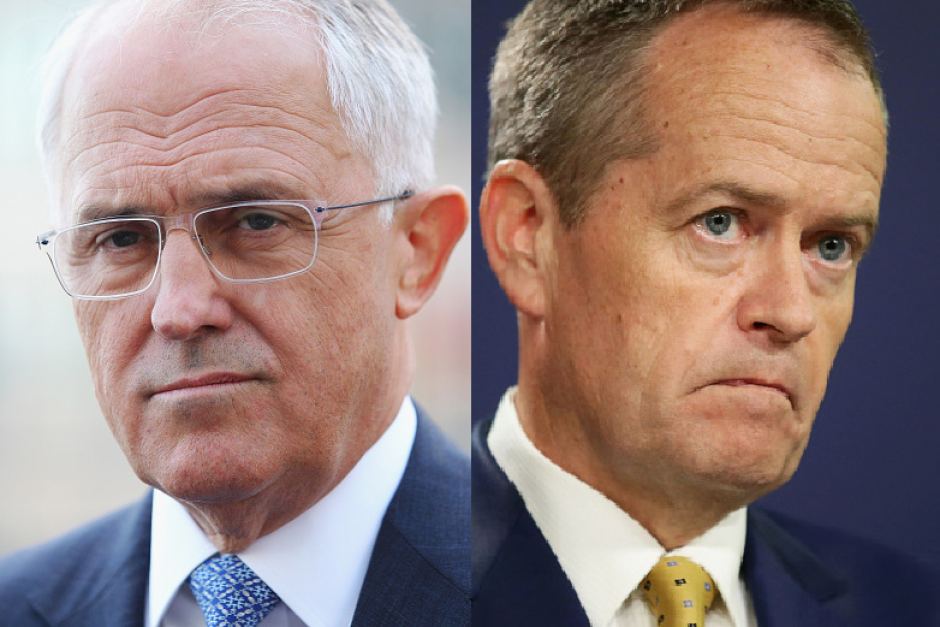 Queensland a key battleground in upcoming federal election, nearly half its seats on small margin
Strategists from the Coalition and Labor are eyeing off Queensland as a key battleground in the upcoming federal election, where 12 of the state's 30 seats sit on margins of under 5 per cent.
The sunshine state is considered a so-called battleground state, with about half the number of winnable seats needed for Labor to take government from the Coalition.
Queensland seats on small margins
Fairfax - Clive Palmer (PUP)
0.03 per cent
Petrie - Luke Howarth (LNP)
0.53 per cent
Capricornia - Michelle Landry (LNP)
0.77 per cent
Lilley - Wayne Swan (ALP)
1.32 per cent
Moreton - Graham Perrett (ALP)
1.55 per cent
Griffith - Terri Butler (ALP)
1.76 per cent
Brisbane - Teresa Gambardo (LNP retiring)
4.28 per cent
Sources have told ABC News that both parties are squaring up for a fight in Queensland.
To win, Labor needs about seven seats in Queensland alone.
The Coalition agrees Brisbane will be a tough fight, but Labor is also targeting 10 others including Petrie, Bonner and Forde.
"Queensland has 30 seats, the third largest state, and of those 30 seats 12 of them are on margins of under 5 per cent, so a swing either way could deliver a swag of seats to either side of politics," ABC's election analyst Antony Green said.
Queensland Premier Annastacia Palaszczuk plans to use the negotiating power of being a battleground state to try to influence Malcolm Turnbull and Bill Shorten - demanding money for health, education, and major projects.
"I'm going to present both of the leaders my wish list for Queensland and I'll be giving them the tick or the cross, before the election is over," she said.
Brisbane could return to Labor
The inner city seat of Brisbane is held by a margin of 4.3 per cent by retiring Liberal MP Teresa Gambaro, and the Federal Opposition has picked Australian Army Major Pat O'Neill to fight for the seat.
Major O'Neill has been campaigning in the seat for nine months but the LNP is yet to announce a candidate.
He said some of the issues seen in wider Queensland also affect the CBD constituents.
"There's a lot of engineers who live here in Brisbane and there's 6,000 engineers looking for work in Queensland, not because of the downturn in what we're digging out of the ground, but of the fact that we're not building new mines," Major O'Neill said.
"And they want to see where those jobs are going to be in the future."
But he also sees larger issues at play.
"I think everyone's concerned about the economy and people want to see a plan for where we're going to be in 10, 20 and 40 years' time, not just tomorrow or next week," he added.
Capricornia and the mining downturn
One of the most marginal Coalition seats of Capricornia is held by the National Party's only female MP, Michelle Landry.
Her seat, held by a margin of just 0.8 per cent, includes the regional centre of Rockhampton and stretches out to include some of the mining and agricultural belts around Emerald in central Queensland.
Ms Landry said there was talk of a union fund with a $1 million for campaigning each of the most marginal seats, but she was remaining up beat, pointing to her record in the community.
"[In] just over two and a half years and we've had over $550 million in projects that are either built or in the pipeline," she said.
She acknowledged that the mining downturn has affected her electorate.
"It's something that has ... been very relevant in this area and we are working on a $100 million jobs package for these areas that have been affected."
Local tourism and hospitality businessman, Grant Cassidy, said the situation has been tough in the area and wanted to see some solid proposals from politicians.
Source: ABC News