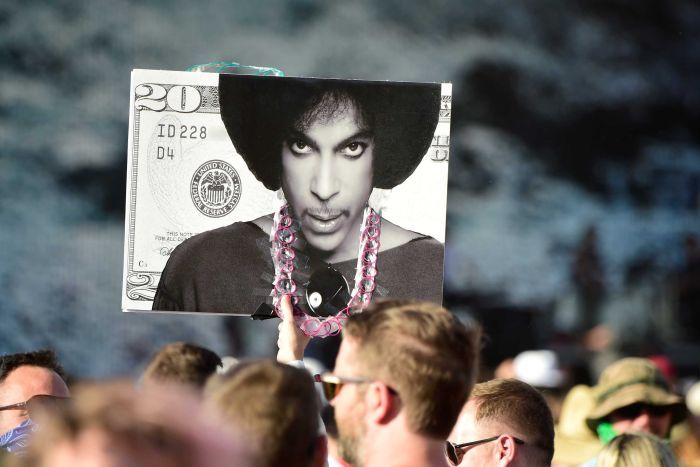 Prince mythic vault of music could make him even more famous after death
Prince was prolific over his four-decade career and even death may not stop him, with the pop icon storing a massive stash of unreleased work in his vaults.
But the question of who decides on future releases will not be simple as Prince, who died suddenly on Thursday at age 57, had no known children, no current spouse, no living parents and fiercely guarded his own creative control like few other artists.
The Purple One, in a 2014 interview with Rolling Stone that was only published after his death, not only confirmed a rumoured vault of music at his Paisley Park compound in Minnesota, but said he had several of them.
"I've never said this before, but I didn't always give the record companies the best song. There are songs in the vault that no one's ever heard," he said.
Prince said he kept a "ton of stuff" in the vaults, including full unreleased albums, among them two made with The Revolution, his funky and diverse band with which he made the classic Purple Rain.
As with so much about Prince, his rationale kept people guessing.
But he hinted that he wanted to create a historical record, with future releases bringing together the best tracks — both smash hits and obscurities — from periods of his career.
Brent Fischer, a composer who long worked with Prince, estimated in the documentary that 70 per cent of the recorded music went unreleased.
Yesterday, authorities conducted an autopsy on the star's body, noting their were no obvious signs of trauma and the death was not considered a suicide.
More details are expected to be known in coming weeks.
I don't think about gone, just the future: Prince
Posthumous recordings are a major business. Prince's contemporary and sometime rival Michael Jackson has twice entered the top five on the US charts since his 2009 death with albums of previously unreleased material.
And Elvis Presley, who died in 1977, returned to number one on the British chart last year with an album of archived vocals accompanied by the Royal Philharmonic Orchestra.
Bob Fuchs, manager of The Electric Fetus, a Minneapolis record store of which Prince was fond, said that customers were hoping to hear more music soon.
"Everyone is absolutely dying for some of that stuff to come out," he said.
But Sheila E, Prince's musical collaborator and former romantic partner, said the music should stay in the vaults as the artist always made his own decisions.
"He worked with whomever he wanted, and if he had wanted those released, he would have released them," she told Fox News Latino.
As for Prince himself, he was cryptic when asked in the 2014 interview whether he wanted the vaults opened when he was "gone".
"No, I don't think about gone. I just think about in the future when I don't want to speak in real time," he said.
Prince cremated in private ceremony
As friends gather at Paisley Park, uncertainty lingers about estate.
Prince's body has been cremated in a private family ceremony.
The music superstar was pronounced dead at his Paisley Park estate near Minneapolis on Thursday morning after he was found collapsed in a lift.
He was cremated after his body was released to his family on Friday afternoon, following a post-mortem examination.
Prince, 57, was a Jehovah's Witness which required a funeral to take place within a week of his death.
Family and friends were pictured arriving on Saturday at Paisley Park, where it is believed a private memorial was held.
Percussionist Sheila E and bassist Larry Graham have both been spotted at Paisley Park, his studio compound in Chanhassen.
Prince's sister Tyka Nelson and brother-in-law Maurice Nelson have also been seen on the grounds.
Despite amassing a fanbase of millions and plenty of celebrity friends, Prince tragically died alone.
In the day following his death from unknown causes at his Paisley Park estate in Minneapolis, details have emerged of the music icon's final hours.
Prince was last seen arriving home alone on Wednesday at 8pm (local time), after which he had a phone conversation with actor Will Smith.
That remains his last known interaction with another person.
When staff couldn't reach him on Thursday, they went to check on him and found him sprawled and unresponsive in an elevator at 9.43am. He was pronounced dead at 10.07am.
After two divorces, Prince was unmarried and childless at the time of his passing, raising questions as to who would inherit his fortune.
A multi-million dollar legacy
With more than 40 million album sales, a song catalogue worth US$100 million and a sprawling nine-acre Minnesota mansion valued at US$7.01 million, Prince's fortune is large.
It is estimated to be more than US$300 million.
That's not counting what will surely be explosive music sales following his death, as well as the proceeds from his exclusive streaming deal with Jay-Z's Tidal service.
On top of that, tax records show Prince owned at least two other properties in Minneapolis, with a collective value of just over US$17 million.
Perhaps the most valuable element of this portfolio are his songs, the rights of which he acquired from Warner Bros in a landmark 2014 deal.
The sole heir
In the absence of an updated will, the woman likely to inherit this impressive fortune is Tyka Nelson, Prince's sister and only surviving full-blood relative.
Under Minnesota law, if a person has left no will and has no spouse or children, their inheritance goes first to their grandchildren, then to the parents and siblings, followed by any other family members.
Prince is survived only by Nelson, 55, and three half-siblings.
While Nelson appears to be the obvious choice, there is speculation the superstar may leave his fortune to the Jehovah's Witness church he regularly attended following his conversion to the faith in 2003.
Kingdom Hall in Saint Louis Park, less than a kilometre from Prince's home, was a haven for the pop star and he attended regular services, known as meetings, there.
The church released a brief statement following the star's death, saying he "found fulfilment as a Witness and in sharing his faith with others."
"We do not have any details regarding his medical condition or the cause of his death.
"Our thoughts are with his family and friends, particularly his fellow worshippers in the Saint Louis Park congregation of Jehovah's Witnesses in Minnesota."
A strained relationship
Nelson appeared outside Paisley Park on the day of her brother's death, laying a single rose and thanking waiting fans for their support.
"Thank you for loving him, y'all," she said to the crowd, "and he loved each and every one of you."
While the pair grew close in later years, they reportedly grew apart due to Nelson's struggles with drug abuse.
In an interview with City Pages in 2008, Nelson revealed she began smoking weed when she was 13 and struggled with self-esteem issues.
"I listened to other people say, 'You're ugly, you're fat, you're stupid,' and I believed it. My brother, he just thought I was crazy."
Prince, by comparison, avoided alcohol and drugs in accordance with his faith.
However, Prince was reportedly responsible for his sister entering rehab and getting her life on track.
As for the cause of Prince's death, that will remain unclear until the full results of the autopsy are released, which could take weeks.
Source : ABC News and TND