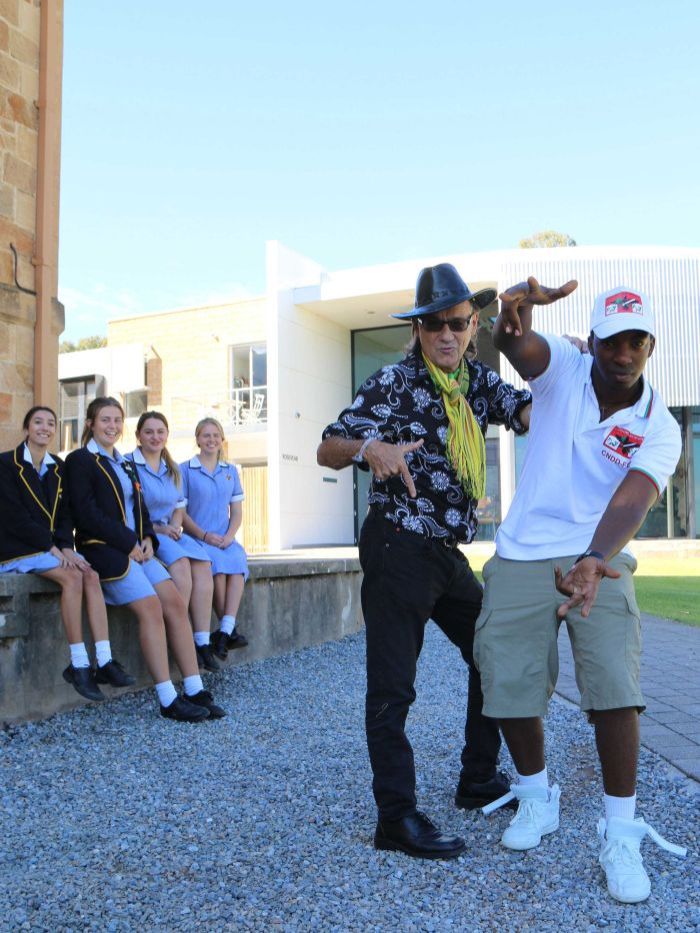 Painters and Dockers frontman Paul Stewart gives back after a resourceful nun 'finds him a liver'
Paul Stewart is best known as the flamboyant frontman of the 1980s punk rock band Painters and Dockers, but a near-death experience has inspired him to dedicate his life to helping young people at risk.
Key points:
Stewart played East Timor benefit concerts after death of brother and Balibo Five member, Tony
Nun remembered Stewart from charity work and found him a liver to save his life
Stewart dedicated life to helping young people at risk
After decades of embracing the rock and roll lifestyle, Stewart suddenly found himself in desperate need of a new liver.
"I had a pretty vigorous, illustrious and interesting 80s and I ended up in the Austin Hospital (Melbourne); I needed a liver transplant," he said.
After 18 months of waiting for a compatible liver, a priest came and read Stewart his last rites.
Not long after, Stewart said a miracle happened that stemmed from his long connection with East Timor.
Stewart's older brother Tony was a 21-year-old sound recordist on assignment in East Timor when he was gunned down by Indonesian forces, along with four other newsmen in 1975 — the Balibo Five.
It inspired Stewart's countless benefit concerts in East Timor with the Painters and Dockers and later, the Dili Allstars, and while on his death bed in Melbourne he was cared for by a Timorese nun.
"She said, 'I've heard of you guys. You got some food up to my village. Why are you here?'," Stewart said.
"I said 'I need a new liver sister', and she said 'I'll get you one'.
"I thought this nun had been on the altar wine or something and sure enough the next day it arrived.
"She did say if I get you a liver, you have to help the women and kids in Timor, so that's what I've been doing the last few years."
Stewart has since worked with nuns on the ground in East Timor to raise more than $100,000 for the local community.
"I actually go on the rounds to the villages with them," he said.
"I just love it because they fill you with soul juice, you know, every dollar they get goes to some little kid and everything is about helping others."
He was also grateful to the Australian who donated the liver that allowed him to have a second chance at life.
"I definitely feel an obligation to put back in because I wouldn't be here unless someone was generous enough to sign up their organs for donation," Stewart said.
"This is the last quarter that I shouldn't be playing. I was knocked out at three-quarter time and I should have been taken off the field. Now I'm at full forward kicking goals so I really feel like putting back in."
Stewart dedicates life to people at risk
Stewart's brother Tony was among five Australian newsmen killed during October 1975 while reporting on Indonesian military action in East Timor.
Back in Australia, Stewart works for Jesuit Social Services and dedicates his life to helping young people at risk as well as disabled children and refugees.
He has become a mentor for Fablice Manirakiza and Frolent Irakiza, two former child soldiers from Burundi in East Africa.
The duo share their experiences through rap music, under the name Flybz, and visit schools to help young Australians learn what life is like in a third-world country.
Manirakiza said coming to Australia and working with Stewart had been a dream come true.
"I remember when I started it was really hard, but since I met Paul Stewart, it's been life changing for me," he said.
"He's not like being a manager but he's been my uncle. Now I call him my uncle and it's just amazing."
Stewart said he never expected to be in the position he was today.
"When I was standing on stage in my underpants with my trumpet ... smashing it on stage, no I didn't think I would end up doing this kind of work but I love it," he said.
"People say to me, 'you're so kind helping out these poor little African guys' and I say, 'no, no, no. I get back ten times from them what they give to me'."
But staying true to punk rock origins, Stewart still plays with the Painters and Dockers, who reunited in 2014.
The band took to the stage at the Governor Hindmarsh on Saturday night in Adelaide after sold-out shows in Sydney, Melbourne, Brisbane and Geelong.
Source: ABC News