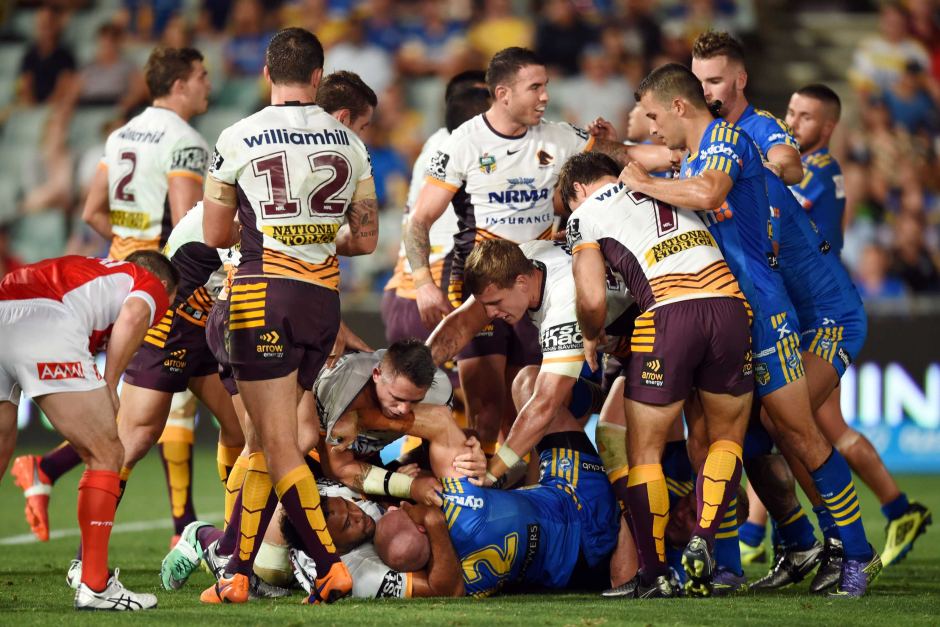 NRL round six: Best tries and highlights as Broncos, Roosters and Knights all win
The NRL's sixth round is in the bag, and with it came plenty of tries and one big moment of controversy.
NRL round six results
Broncos 26-0 Dragons
Rabbitohs 10-17 Roosters
Eels 36-6 Raiders
Warriors 18-34 Sea Eagles
Panthers 18-23 Cowboys
Sharks 25-20 Titans
Knights 18-16 Wests Tigers
Storm 12-18 Bulldogs
The Broncos title favouritism strengthened with a shut-out 26-0 win over the Dragons, while the Cowboys came good at the end to beat the Panthers 23-18.
The Roosters put their poor form to one side to shock the Rabbitohs 17-10, while the Eels ran riot against Canberra in a 36-6 thumping.
There were also wins for Manly, Cronulla and the Bulldogs.
But the biggest controversy of the week came in the Knights 18-16 win over the Wests Tigers, with Korbin Sims exploiting a bizarre multi-ball situation to bamboozle rival full-back Jordan Rankin.
2016 NRL Premiership Season
| POS | CLUB | P | W | D | L | B | PF | PA | +/- | PTS |   |
| --- | --- | --- | --- | --- | --- | --- | --- | --- | --- | --- | --- |
| 1 | Brisbane Broncos | 6 | 5 | 0 | 1 | 0 | 135 | 73 | 62 | 10 |   |
| 2 | North Queensland Cowboys | 6 | 4 | 0 | 2 | 0 | 155 | 73 | 82 | 8 |   |
| 3 | Parramatta Eels | 6 | 4 | 0 | 2 | 0 | 106 | 65 | 41 | 8 |   |
| 4 | Cronulla-Sutherland Sharks | 6 | 4 | 0 | 2 | 0 | 129 | 96 | 33 | 8 |   |
| 5 | Canterbury-Bankstown Bulldogs | 6 | 4 | 0 | 2 | 0 | 120 | 88 | 32 | 8 |   |
| 6 | Melbourne Storm | 6 | 4 | 0 | 2 | 0 | 109 | 92 | 17 | 8 |   |
| 7 | Canberra Raiders | 6 | 3 | 1 | 2 | 0 | 123 | 134 | -11 | 7 |   |
| 8 | South Sydney Rabbitohs | 6 | 3 | 0 | 3 | 0 | 134 | 95 | 39 | 6 |   |
| 9 | Gold Coast Titans | 6 | 3 | 0 | 3 | 0 | 136 | 133 | 3 | 6 |   |
| 10 | Manly-Warringah Sea Eagles | 6 | 3 | 0 | 3 | 0 | 118 | 130 | -12 | 6 |   |
| 11 | Wests Tigers | 6 | 2 | 0 | 4 | 0 | 130 | 138 | -8 | 4 |   |
| 12 | Penrith Panthers | 6 | 2 | 0 | 4 | 0 | 111 | 125 | -14 | 4 |   |
| 13 | New Zealand Warriors | 6 | 2 | 0 | 4 | 0 | 140 | 160 | -20 | 4 |   |
| 14 | St George-Illawarra Dragons | 6 | 2 | 0 | 4 | 0 | 40 | 128 | -88 | 4 |   |
| 15 | Newcastle Knights | 6 | 1 | 1 | 4 | 0 | 92 | 176 | -84 | 3 |   |
| 16 | Sydney Roosters | 6 | 1 | 0 | 5 | 0 | 95 | 167 | -72 | 2 |   |