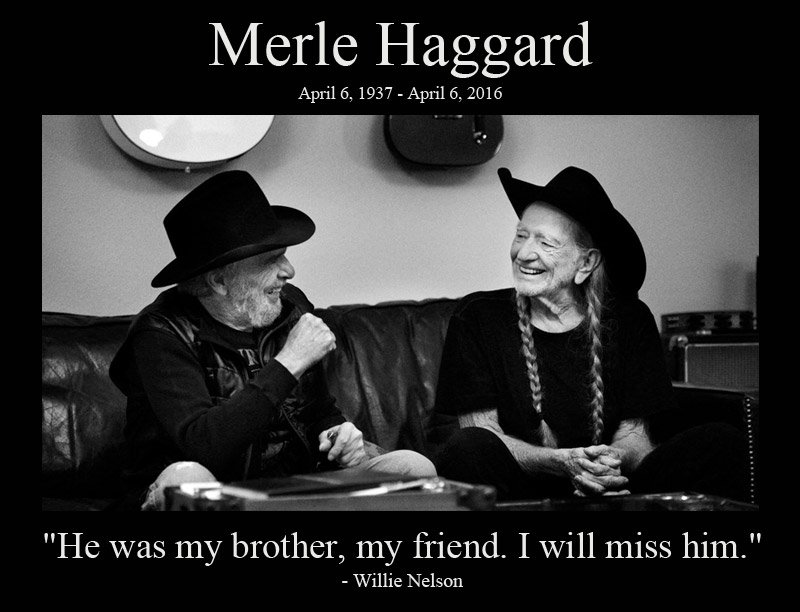 Merle Haggard, country and western star, dies at 79
Country musician Merle Haggard, who emerged from prison to become the poetic voice of the American working man with hits such as Mama Tried and If We Make It Through December, died on Wednesday, his 79th birthday, said manager Frank Mull.
Haggard died of pneumonia at his home in Palo Cedro, California, Mull said.
His son Ben, who played lead guitar in Haggard's band, said his father had predicted the day of his death.
"A week ago, Dad told us he was gonna pass on his birthday, and he wasn't wrong," Ben wrote on Facebook.
"An hour ago he took his last breath surrounded by family and friends."
Haggard became one of the most influential figures in country music with a repertoire that included songs with traditional country themes such as drinking and heartache, but he infused them with more insight and tenderness than most honky-tonkers.
I can't remember when I haven't listened to him. Some of the best songs and best delivery you can get.

Keith Richards
He also broadened the genre by writing about poverty, loneliness and social issues.
Haggard once said he preferred playing guitar to singing but it was his voice that made him stand out.
Haggard's sound drew from traditional country but also touched on folk, pop, jazz, blues and rock, and his songs were covered by the likes of the Grateful Dead, Elvis Costello and Lynyrd Skynyrd.
"I can't remember when I haven't listened to him," said Rolling Stones guitarist Keith Richards. "Some of the best songs and best delivery you can get."
Haggard was born April 6, 1937, near Bakersfield, California, the son of a couple who had been part of the exodus from Oklahoma's Dust Bowl during the Great Depression. Haggard's father was a carpenter for a railroad, and the family lived in a converted boxcar.
Music 'saved my ass' from life of crime
Haggard, who was 9 years old when his father died of a brain tumour, quit school in the eighth grade and began hopping freight trains.
He also took up the guitar and petty crime and frequently was placed in — and escaped from — juvenile reformatories.
A few years later he was living out the lyrics of what would be one of his biggest hits — Mama Tried, the story of a man who marked his 21st birthday in prison.
He had been sent to California's notorious San Quentin prison for trying to break into a cafe — too drunk to realise that at the time it was still open and serving customers.
Haggard was already a big fan of country star Lefty Frizzell when he saw Johnny Cash perform at the prison in 1958 and decided to make a career of music after being paroled almost three years into his sentence.
"I would've become a lifetime criminal if music hadn't saved my ass," Haggard said in a PBS documentary.
"I'm living proof that things go wrong in America and I'm also living proof that things can go right."
During his time as governor of California, Ronald Reagan pardoned Haggard for his crime.
"I've never been a guy that can do what people told me," Haggard told the Times. "It's always been my nature to fight the system."
Life on the road takes its toll
Haggard toured constantly with his band, the Strangers, and once described his life as "a 35-year bus ride" — and that was in 1996, long before his bus stopped rolling.
Haggard often told interviewers he was not political but his songs showed he was certainly opinionated and a libertarian thinker.
In 2003 he defended the Dixie Chicks from fan backlash after they criticised President George W Bush and he wrote a song in tribute to former first lady Hillary Clinton when she was seeking the presidency in 2007.
Stardom took a toll on the man known to his fans as "The Hag" and his career waned in the late 1980s amid personal problems.
He filed for bankruptcy protection in 1992 after years of hard living, four divorces, gambling and bad investments. He once estimated that he had blown $100 million.
Source: ABC News