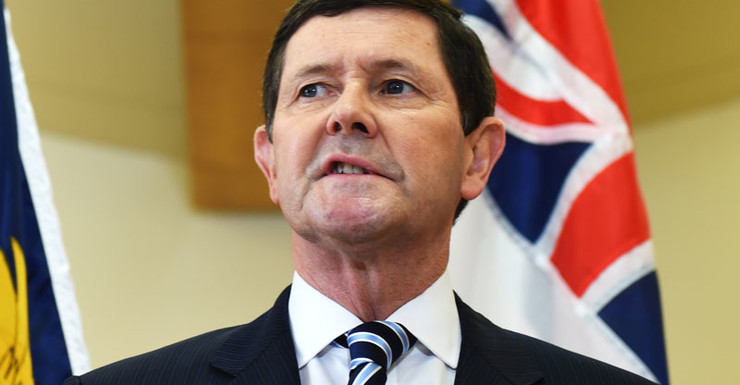 How Kevin Andrews threatens to split Coalition
He's a staunch Christian who champions family values. Yet Kevin Andrews could trigger a messy political split.
It is perhaps ironic that Kevin Andrews – for years a staunch advocate of the community benefits of a long and lasting marriage – should be seen as actively destabilising relationships within the Coalition "family".
The former Defence Minister's latest declaration that he would be willing to challenge Malcolm Turnbull for the prime ministership has again highlighted simmering disharmony among Liberal Party conservatives.
With an unofficial election campaign already underway, it is hardly the sort of comment that conjures up images of stability and unity so vital to the government's re-election chances.
Mr Andrews, a key Tony Abbott loyalist, was explaining the reasons behind his ill-fated bid to wrest the Liberal deputy leadership from Julie Bishop last year and his unsuccessful challenge of Mr Turnbull for the Liberal leadership in 2009.
"It has never been my burning ambition to be the leader of the party, but if circumstances arose which they did in both of those instances where I thought there should be a change or a contest, I am prepared to do it," he told Melbourne community newspaper the Manningham Leader.
On Monday he attempted to clarify his comments, saying the interview was taken out of context and he gave a "hypothetical" answer.
Along with Mr Abbott and former Workplace Minister Eric Abetz, Mr Andrews has been a standard bearer for the conservative forces chipping away at Mr Turnbull since he seized the prime ministership in September last year.
In February, Mr Andrews was accused of destabilising the Turnbull leadership by backing US military calls for greater use of special forces against Islamic State and thus contradicting the PM's firm view that Iraqi and Syrian troops should own any victory.
Who is Kevin Andrews?
A prominent member of the socially conservative Christian faction within the Coalition known as the Lyons Forum, Mr Andrews regards himself as a leader of the Liberal Party's conservative faction.
"But I see that leadership as a kind of intellectual leadership," he told the Manningham Leader. "My view about politics is that if you get the policies right, the politics will follow."
Mr Andrews will contest this year's election and believes he could make a positive contribution if again given a ministry – but that would be "up to the prime minister of the day".
"If I feel I can continue to contribute and make some sort of difference then I would think of staying on," he told the paper.
Kevin Andrews was first elected to the House of Representatives seat of Menzies at a by-election in 1991.
Mr Andrews studied law at Monash University and practised as a barrister before entering parliament. He was Employment and Workplace Relations Minister in John Howard's government and guided the introduction of the controversial WorkChoices labour market reforms.
Under Mr Abbott, he served as Social Services Minister and then Defence Minister before being dumped to the backbench by Mr Turnbull.
Looking back, moving forward
In his interview with the Manningham Leader, Mr Andrews also revealed his regret at being replaced as Social Services Minister in late 2014.
In 2014, he launched a book, Maybe 'I do' – Modern Marriage and the Pursuit of Happiness, while serving in the Abbott Shadow Cabinet portfolio of Families, Housing and Human Services.
Based on social science studies detailing the importance of marriage for adults, children and society, the book provides an insight into the conservative Christian ideals that drive him.
In the book, Mr Andrews argues that much more is needed to be done to protect and support marriage and family because "stable families are also the bedrock of successful societies".
"The greatest threat facing the western world is not climate change or global warming," he writes.
"It is not the continuing financial crisis. Nor is it the threat of radical Islam. The greatest threat is within. It is the steady, but continuing breakdown of the essential structures of civil society – marriage, family and community."
Source: TND