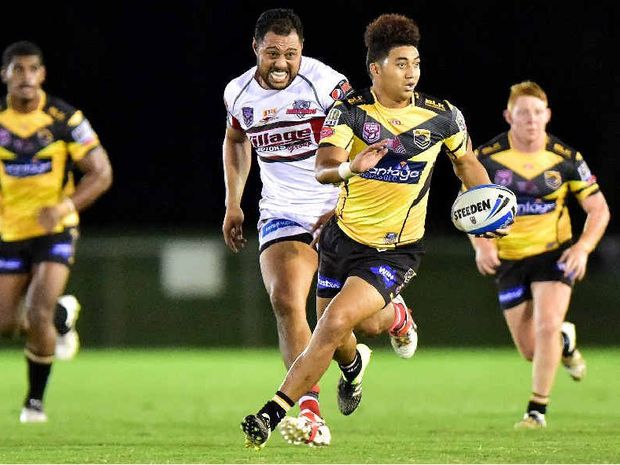 Falcons clipped but show their mettle
This is a very different Sunshine Coast Falcons side.
There was every reason why the Falcons could've been hammered by the Redcliffe Dolphins last night.
An injury list that continues to stretch on, a far better-resourced opponent in Redcliffe and the emotion of playing in the inaugural memorial match for their late mate James Ackerman would all have been understandably enough to see a one-sided score line.
But this side, under the guidance of coach Craig Ingebrigtsen showed last night they are a mentally tougher unit prepared to take any game on.
Missing a string of starters but with a 1200-strong crowd in to support the Ackerman family and the local lads, the Falcons showed plenty of fight.
They matched it in the middle of the park with the Dolphins pack and fullback Eddie Tautali showed some sublime touches as the Falcons put a scare through the Dolphins late in the game.
Down 16-8 with eight minutes left and the Falcons laid on the play of the night, a Ryley Jacks chip regathered by Tautali who put centre Rowan Klein in for a dash to the line to set up the thrilling finish.
It wasn't to be- the Dolphins closed the game out 16-12- but the Falcons did themselves and the legacy of their mate Ackers more than proud, with coach Ingebrigtsen pleased with their efforts through the middle of the park.
"It was an emotional day for our blokes and probably emotional for them (Redcliffe) too but I'm happy with the effort especially with the troops we've got down at the moment," Ingebrigtsen said.
Redcliffe prop Tyson Andrews, a close friend of Ackerman, said the build up to the game and moments prior to kick-off had been tough.
"Yeah it was very emotional especially at the start, even just the whole build up through the week," he said.
Source: Sunshine Coast daily