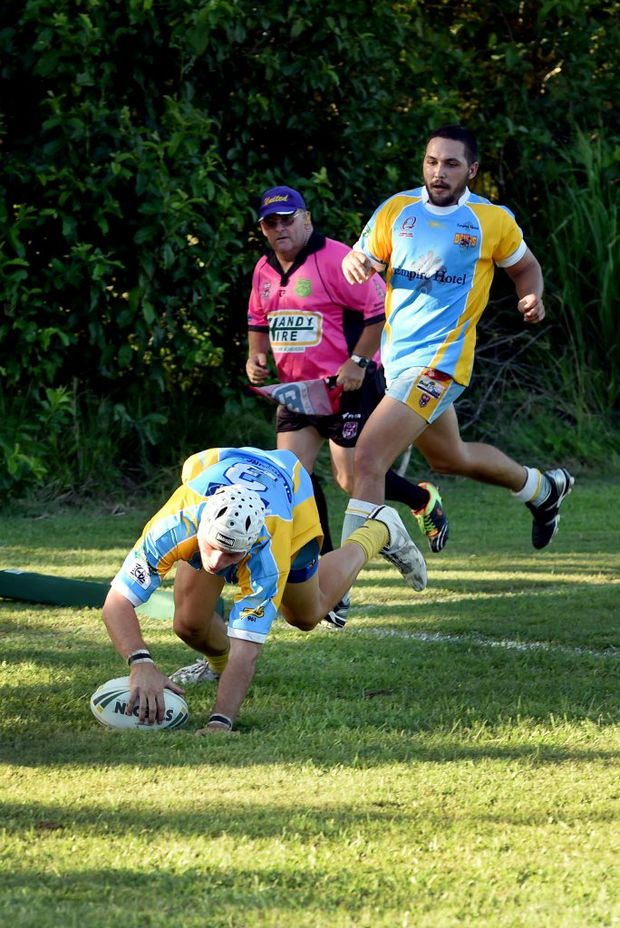 Devils' guns out but all roads lead to Kawana
The Gympie Devils are looking to put last round's loss against Caboolture behind them as they prepare for this weekend's Anzac tribute match against Kawana.
The Devils fielded an under strength side on the weekend against the Snakes, with the likes of Jake Harney, Kadison Millard, Kurt Fleming and Riley McDowell all unavailable for the clash.
However, despite the lack of personnel, the Devils, through dummy half Dylan McGrath, were the first to score.
The momentum was all Gympie in the first 15 minutes but back-to-back tries to the Snakes quickly put the visitors on the back foot.
McGrath was able to find the try line again on the back of some Caboolture handling errors, but a succession of penalties and mistakes allowed Caboolture to extend the score line.
Gympie front rower Ian Naylor was able to keep his consistent start to the season going, charging for solid metres early on.
Reserve-grade forward Jarred Tramacchi was also impressive in his first Division 1 hit-out for the year, crossing for a try of his own mid-way through the second half.
But lapses in defensive concentration started to hurt the Devils with another flurry of Caboolture tries sealing the Devils' fate and ending the game with a 42-16 score line.
However, despite the lack of available regular A-grade players, the Devils are still in shape numbers-wise and do not look like following their former joint venture team mates Noosa.
The Pirates are struggling after being forced to forfeit two of their games at the weekend.
However, Devils prop Naylor does not think the Devils will be in a similar situation.
"The best part of last weekend's game was that we still had more than enough players to field an A-grade side, so we have the depth," Naylor said.
"Our effort in the first half was solid considering we were missing players.
"As far as I know we are back to a full strength side this week."
The Devils will take on the traditionally strong Dolphins outfit at Jack Stokes this Saturday, with the home side debuting its Anzac Day tribute jersey.
The Devils share a traditionally close relationship with the Noosa Pirates, merging together in recent times to form the Northern Outlaws.
Devils president Jim Bougoure spoke with The Gympie Times yesterday and said the Devils were not in the same position.
"We are in good shape and we have numbers," Bougoure said.
"Last week we travelled to Caboolture which is one of the hardest road trips we do.
"The club effort was fantastic; we had 18 reserve grade players make the trip and a number of them were able to fill spots on the A-grade bench," he said.
"We knew we were going to struggle at times, but we are looking at giving Kawana a good run."
Source: Gympie Times