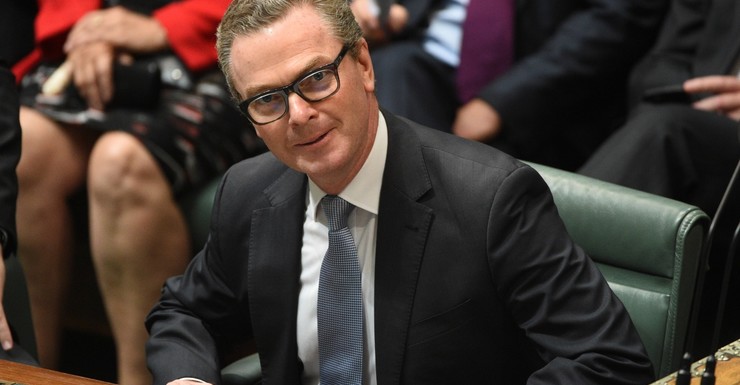 Christopher Pyne puts parliament out of its two-day misery
The silliest sitting of both houses is over already, as Turnbull got what he wanted.
Leader of the government in the House of Representatives Christopher Pyne has applied a procedural guillotine to cut short a brief, expensive sitting of parliament.
Mr Pyne's intervention was provoked by an attempt by Opposition Leader Bill Shorten to suspend standing orders so MPs could vote on a resolution to note "the House of Representatives is in the extraordinary position of a government having called a new session of parliament only to run out of legislation to debate with 12 hours of the Governor-General opening the new session".
They had been in Canberra for just two days to provide Prime Minister Malcolm Turnbull with the trigger for a double dissolution election.
Having secured his trigger by 36 votes to 34 in the Senate at around 6.45pm on Monday evening, all MPs and senators were then surplus to current requirements.
The Senate, where the government is in a minority, is master of its own sittings but was expected to adjourn as well.
They will all be back for the Budget session in May. Immediately after Mr Shorten presents his address in reply on Thursday May 5, the Prime Minister has indicated he will drive to Government House to advise Governor-General Sir Peter Cosgrove to dissolve both houses of parliament and promulgate the writs for an election on July 2.
In question time on Tuesday, Mr Turnbull ramped up his rhetoric against Mr Shorten's trade union-backed Labor Party.
"The Labor Party is all about tax. It destroys small business, the engine room of the Australian economy," he said.
Mr Shorten countered with questions about Mr Turnbull's resistance to his call for a royal commission into the banks. Tag teaming with Treasurer Scott Morrison, Mr Turnbull again asserted a 'capability review' of the consumer watchdog ASIC was imminent.
The recall of parliament, at an estimated cost of $1.39 million for two days' sittings, has been justified by the pressing need for legislation re-establishing the Australian Building and Construction Commission to confront "lawlessness" in that sector.
Mr Shorten let a flurry of accusations about alleged criminality within the CFMEU go through to the keeper, including reference to the number of officials currently being prosecuted.
Closing down the parliament denies the government's opponents a forum with a megaphone attached. In media management terms, it enhances the government's unilateral ability to announce or leak tidbits about 'action' initiatives in the period before it is constitutionally required to enter caretaker mode.
Leaks about the budget strategy have already started with drops to journalists about a crackdown on multi-national tax avoidance, a cap on offshore profit shifting and winding back superannuation tax concessions for the wealthy.
These tactics will have to be sustained for 10 long weeks now in a 24-hour social media frenzy.
The guillotine on all this can now only be applied by voters themselves when they enter the ballot boxes in the town and school halls of Australia on Saturday July 2.
Source: TND