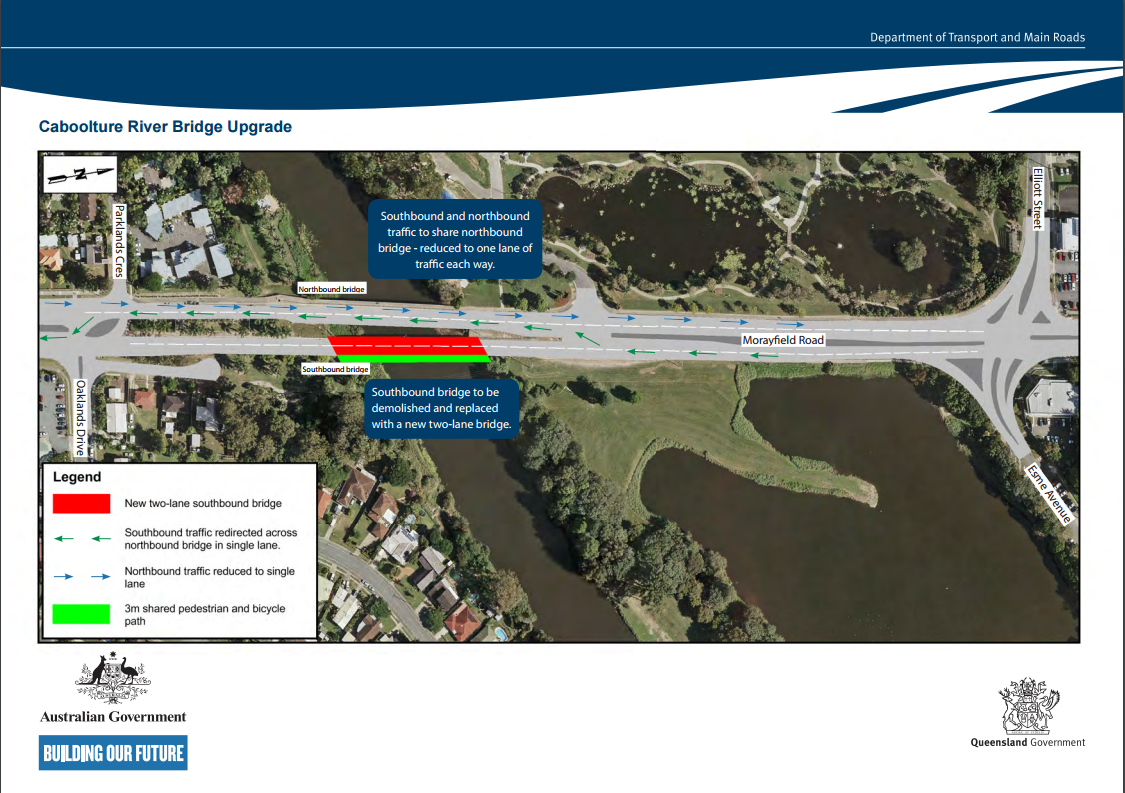 Caboolture River Bridge Replacement Project starts in June
Caboolture River Bridge replacement project Information provided by:  TMR Queensland. 
Overview: 
The Caboolture River Bridge Replacement Project will replace the southbound bridge on Morayfield Road over the Caboolture River. The 98 year-old bridge is nearing the end of its design life and must be replaced for structural and safety reasons. The new-two lane bridge will provide motorists with a safer crossing of the Caboolture River, and improve access for freight by allowing load limits to be removed. It will also provide better pedestrian and cyclist access through a new 3 metre pathway. The $17.2 million project is jointly funded by the Australian and Queensland governments. The contract for construction was recently awarded to Davbridge Constructions, a South East Queensland-based company.
The contractor is expected to have a presence on-site from late April to early May. Initial works will begin in May, with the change-over of Traffic is scheduled to be switched onto the northbound bridge from Monday 27 June 2016 (weather permitting) with one lane of traffic operating in each direction. .
Traffic
The new bridge will be built in the same location as the existing southbound bridge. During works, southbound traffic will be diverted onto the northbound bridge, with one lane of traffic operating in each direction.
Traffic is scheduled to be switched onto the northbound bridge from Monday 27 June 2016 (weather permitting) with one lane of traffic operating in each direction.
Delays through the site are expected, and the Department of Transport and Main Roads will be closely managing traffic through the site to reduce delays as much as possible.
The department will be monitoring traffic through the site and responding to queuing and pinch points through adjusting nearby traffic signals to help minimise delays.
It will also be carrying out regular travel time surveys across the surrounding network to monitor traffic and changes to travel patterns to help in its response to traffic conditions.
A number of mobile electronic message signs will be installed around the network to inform motorists of the changed conditions at key decision-making points in their journeys to allow them to make informed decisions about their trips.
The department encourages motorists to take alternate routes wherever possible, and to avoid the site during peak hours.
Delays are anticipated to be at their worst at the start of works however, are expected to reduce as motorists adjust to the new conditions and take alternate routes.
The department acknowledged that the project will have impacts to the local community and apologise for any inconvenience caused. It thanks the community for their patience as we deliver this essential bridge replacement project.
Emergency service access
The department recognises that access for emergency vehicles is critical and is working with Emergency Services to determine the best ways to provide passage for emergency vehicles.
New software will be installed at selected traffic signals on King Street and Morayfield Road to give emergency vehicles priority through the signals to assist them with access to the site.
Now that the contractor is appointed, the department will work with it to confirm details for emergency access through the site during works.
Work hours:
Work will generally be carried out during the day, Monday to Friday. On some occasions, night work may need to be carried out and the department will notify nearby residents in advance.
Nearby residents may experience some noise, dust, and vibrations during works.
The time frame for completion of works is one year however, we will be working hard to get the job done as quickly as possible within this time.
Once again, the department thanks you for your support while it delivers this critical infrastructure upgrade for the local community, and will keep you informed as the project progresses.

To receive email updates about the project, please send your email address to Cabooltureriverbridge@tmr.qld.gov.au or call 1800 783 016.