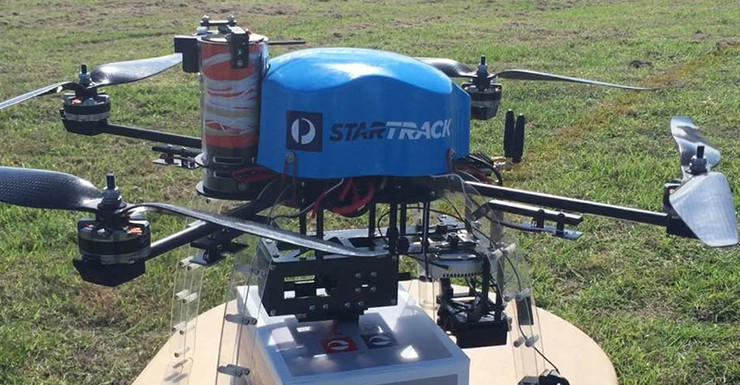 Australia Post's drone plan is a 'publicity ploy'
Postal service has scant details on its high-tech delivery plans.
Advertising experts have branded Australia Post's drone delivery plan a publicity stunt.
The announcement was a "nice bit of branding" for the oft-maligned organisation, but consumers will have to wait years for the service, according to an expert.
"Was Australia Post's drone announcement a PR stunt? Undoubtedly, as even they acknowledge that they are still years away from any possible implementation," International Public Relations Association Australia chair David Donohue told The New Daily.
But when asked this week when it all might happen, an Australia Post spokesperson told The New Daily the organisation did not have an answer.
Meanwhile, a spokesperson for the Civil Aviation Safety Authority (CASA) told The New Daily a full drone delivery rollout would be lengthy and that the scheme was still in a "research" stage.
The CASA and Australia Post collaboration would be conducted to explore CASA's drone safety concerns and for Australia Post to demonstrate how the drones worked. It would be conducted in a controlled area or non-urban zone.
But the Australia Post spokesperson admitted the company did not yet know how its drone delivery system would work.
Would drones take off from a centralised spot? Would drivers pull up on the side of a freeway and fly drones into nearby areas or would drivers fly drones from the street to that street's front doors? It's unclear.
The Australia Post spokesperson said matters would be clearer after a two-week CASA collaboration, but a customer trial would then follow.
This would involve selecting an unknown number of areas, likely rural, for drone delivery.
The CASA spokesperson said it was impossible to predict how or if Australia Post could produce a proposal the agency could authorise because it was yet to see one.
CASA said it was not currently possible for Australia Post drones to fly over urban areas.
'A clever publicity ploy'
Advertising experts said the drone scheme was a "clever" way for Australia Post to garner positive attention.
"It makes Australia Post at least seem as though they are at the cutting edge of technology," said IPR's David Donohue.
"It promotes the message that they are forward-looking at a time when their traditional mail service is losing money, competitors are eating into their parcel post revenue, and they are progressively losing at least some of the other revenue streams they have enjoyed."
Deakin University advertising expert Dr Paul Harrison agreed the unveiling was a "clever publicity ploy".
"It was an opportunity to create publicity for the brand and to get people to think positively about Australia Post," Dr Harrison told The New Daily.
"That it is a long way off suggests the intention wasn't about introducing about a new product but more about showing the brand as not old-fashioned."
Source: TND