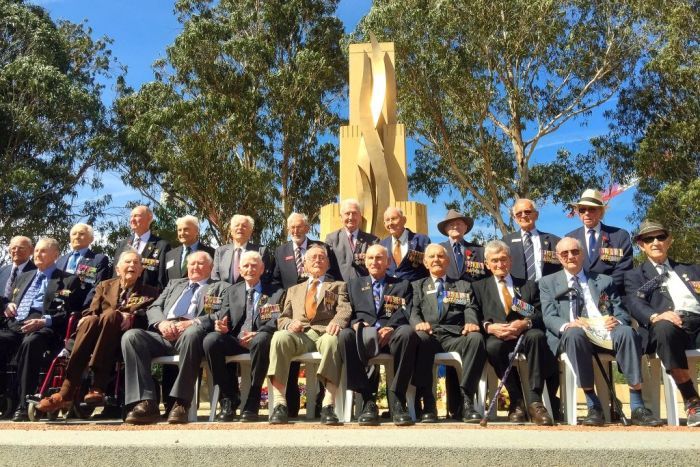 ANZAC: Rats of Tobruk gather in Canberra to mark 75th anniversary of WWII siege
There are only a few of the original Rats of Tobruk still alive, but many of those gathered in Canberra on Sunday to mark 75 years since the famous World War II siege.
Australians proved their mettle as a fearsome fighting force during the eight-month-long battle against the Germans in 1941.
Many decades on, some veterans remember details of the combat with clarity.
"I was never frightened," said veteran Ernest Brough, now 96 years old.
"That's the thing that saved me — I was never nervous."
It was Australia's first major battle of the war and the first time the Germans were defeated on land.
Australian soldiers were instructed by the British to hold the critical port of Tobruk in Libya, in a bid to stop the Germans advancing into Egypt.
The Germans attacked from land with artillery and tanks, as well as from the air in what was then the longest siege in modern military history.
"It was a case of keeping 'em out. Don't let 'em in, that's it. Fight for your life," Mr Brough said.
Tobruk was also where Australia's first Victoria Cross (VC) was awarded.
Corporal John Hurst Edmondson was awarded a VC posthumously.
He saved his senior officer from being killed in close combat, but died from the wounds he sustained.
Aussies took on 'desert rats' label with pride
A "Rat" of Tobruk leaves flowers at the memorial in Canberra.
(ABC News: Ian Cutmore)
In hostile conditions, beset by sandstorms, heat, flies and lice, the Australians dug in.
Enemy commander General Erwin Rommel was so impressed that he assumed the diggers were an elite fighting force.
The Germans described the Australians as "desert rats" and the diggers adopted that label with pride.
Tobruk veteran Joe Madeley said about 800 Australians were killed in the siege and many more were injured, but he harboured no hatred for his foe.
He remembered brief interludes in the fighting when the German and Australian soldiers would take turns singing songs, as they were so close to one another they could hear and applaud each other's singing.
"We didn't hate them. We had German prisoners of war and we used to share our coffee with them when we were guarding them," Mr Madeley said.
But Mr Madeley said his Tobruk campaign ended in a court martial.
"We were the last to leave, but the boat was sunk that we were supposed to be on," he said.
"We had nobody in charge of us, no food, no nothing. They took us out and dumped us just opposite the ration dump."
Not wanting to waste a good opportunity, Mr Madeley gathered up a few soldiers for a midnight raid on the ration dump.
They climbed under the barbed wire and availed themselves of a few cases of sausages, only to be busted by British military police.
Mr Madeley was charged for his role in the sausage theft, but luckily the charges were dropped before he was sent on to fight for the Empire at El Alamein.
Source: ABC News