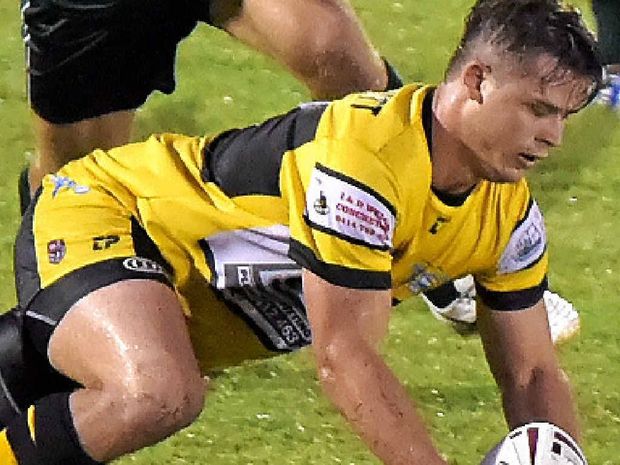 Sharks coach rates Maroochydore as the team to beat
It's only early days in this year's Caloundra RSL Cup but Caloundra coach Glenn Irwin reckons Maroochydore is clearly the competition yardstick.
His Sharks were toppled 24-6 by the Swans in a round two clash at Buderim on Saturday night.
And he saw enough of the green machine to suggest it is the team to beat.
"I think the Swans will be the benchmark," he said.
"They're very strong, they're very well-disciplined. Everything about their footy team (is good).
"They seem to be in a very good position for this time of year."
His comments come despite the presence of defending premier Kawana, which had a bye at the weekend but thumped Caboolture 42-6 in round one a week ago.
"We haven't played them and I haven't seen too much of them yet," he said before adding "There's just something about the Swannies. I like the look of them."
As for the Sharks, Irwin was pleased his charges could limit the damage on Saturday, given they were without most of their backline from the previous week.
A handful of players from the team's round one win over Noosa, including livewires Lance Ainsworth and Ryan Stroud, were on the weekend playing at the Oztag Senior State Cup at Bokarina, while Rowan Klein was re-called to the Sunshine Coast Falcons.
The only mainstay left in the back seven was Brett Doherty.
"Oztag is pretty big in Caloundra," Irwin said.
"(So) we were a bit understaffed."
"We had five boys who made their A-grade debuts so I was extremely proud of the young boys.
"They were against a very good footy side so to only go down 24-6, I'm quite happy with that."
One of the Sharks youngsters to impress in the circumstances was Beau Lynagh.
He had previously played a couple of games off the bench but made a significant impact in his first run-on appearance, in the centres.
"I thought he was really good and not out of place at all," Irwin said.
Among other results, Caboolture defeated Nambour 22-18 at Caboolture.
Tim Perkins bagged a brace of tries.
Meanwhile, Noosa beat Gympie 26-10 at Tewantin. The latter two teams have this year returned to playing in division one in their own rights after playing as a joint venture during the past two seasons.
Source: Sunshine Coast Daily