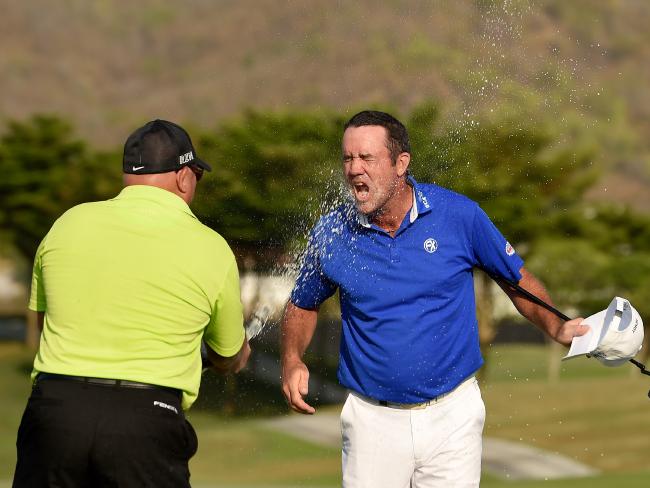 Redcliffe's Scott Hend and his father Bob win tournaments on same day
Bob is an oddity with his reverse-handed grip from driver to putter but life as "a confused right-hander", as he calls it, works.
"I got home from Redcliffe, grabbed a beer and watched Scott win it, start to finish, on tape," Bob said.
"I've been proud of his golf since he told me at 13 he wanted to turn pro and his record the past few years is terrific."
Hend's triumph in Thailand (68-64-70-68) was his sixth tournament win in three years and catapulted him from 122nd to 79th in the world.
Often undervalued is Hend's buddy Tony Carolan, a pro himself, being on his bag as caddie.
It was TC who sprayed Hend with champagne on the final green in Thailand.
Young Redcliffe amateur Kirsty Hodgkins fired a fine final round 68 to make up a seven-stroke deficit to win the prestigious Riversdale Cup in Melbourne last Sunday.
Organisers are hoping to top last year's $26,000 effort with another bumper fundraising day on May 6 at the Canteen Charity Golf Day at Nudgee.
Entries are open at canteengolf@hotmail.com.
Shrewd Kiwi rugby fans should spice the field because an All Blacks jersey, signed by Richie McCaw and his Rugby World Cup winners, is to be auctioned.
Steve Bowditch needs to find a cure for his wayward driving before next month's Masters after his 81-76 exit from the Valspar Championship.
The burly Sunshine Coast golfer hit just seven of 26 fairways in missing the cut to follow his four rounds in the 80s at the Cadillac Championship.
Source: Quest News