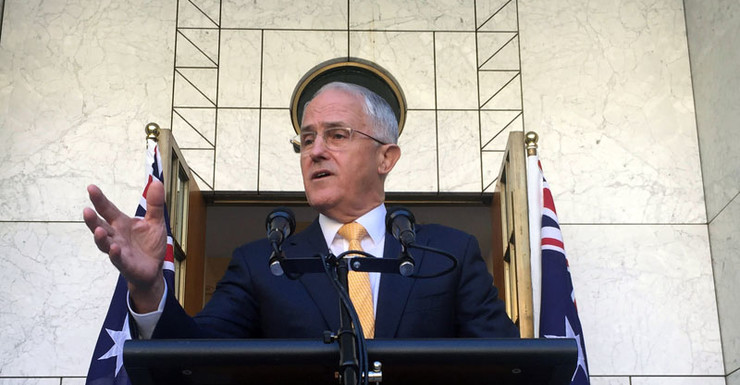 PM flags early poll: 'Time for games is over'
Mr Turnbull's decision will likely cause a double dissolution election.
Australia may be going to an early election after Prime Minister Malcolm Turnbull recalled both houses of parliament for a joint sitting on April 18 to deal with two bills targeting union corruption.
Parliament will consider the Australian Building and Construction Commission (ABCC) and Registered Organisations Amendment bills and if they do not pass the Senate, the PM will call double a dissolution election for July 2. The federal budget has also been brought forward to May 3.  
The announcement was made at a snap press conference at Parliament House early on Monday.
Labor, the Greens and some cross-benchers are opposed to the bills and have already voted against them.
The Senate will be given three weeks to pass the proposals into law or face a double dissolution election.
Mr Turnbull said the Coalition would be doing all it could to pass the ABCC bill.
"I make no apology for interrupting senators' seven-week break to bring them back to deal with this legislation," hesaid.
"The time has come for the Senate to recognise its responsibilities and help advance our economic plans, rather than standing in the way.
"The restoration of the ABCC [Australian Building and Construction Commission] is a critical economic reform.
"The time for playing games is over."

Mr Turnbull set out the terms on which he said the Coalition would fight the election.
"The issue in the election is: who do you believe is best able to continue successfully to manage Australia's economic transition?" Mr Turnbull said.
"Who has the policies and the leadership that will ensure there is more investment, more innovation, greater productivity, and better jobs for your children and grandchildren?"
Shorten responds
Opposition leader Bill Shorten spoke briefly about Mr Turnbull's decision, during a simultaneous media conference.
"What's keeping Mr Turnbull up at night is not about how to return the budget to surplus … he is purely and utterly worried about when to call the election so he can keep his job," Mr Shorten said.
Mr Shorten will hold a media conference on Monday afternoon.
---
TIMELINE – KEY DATES
APRIL 18
Both houses return to Canberra for three weeks to debate the bills.
Failure to pass the bills will give the government a double dissolution trigger
MAY 3
Treasurer Scott Morrison will hand down the 2016 Budget, seven days earlier than previously scheduled.
MAY 5
Opposition Leader Bill Shorten's budget in reply.
MAY 11
Deadline day for Mr Turnbull to call a double dissolution election.
JULY 2
The election will be held on this day if the union bills are not passed.
Source: TND