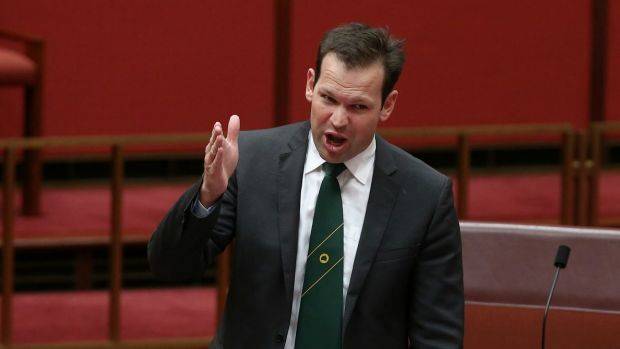 New Federal Northern Minister Minister Matt Canavan backs poll plan for new North Queensland state
The recently-installed Minister for Northern Australia Matt Canavan has endorsed a referendum on the creation of a seventh Australian state by splitting Queensland in two, arguing the proposal has "merit" and should be put to the people.
Weighing in to a debate that is as old as the hills, the new frontbencher said statehood for northern Queensland could benefit the region economically and would align with the conservative inclination to localised government.
"I have expressed support for it before. It has merit because it's a big country," Senator Canavan told ABC's Radio National.
"I think if the founding fathers were still here, 115 years on from Federation, they'd be a bit surprised that we haven't created new states. There are provisions in the constitution to do that - we haven't used those provisions though we've tried before."
In 1967, a referendum on statehood for the New England region of NSW was defeated with a "no" vote of 54 per cent. A "split" Queensland is also thought to lack popular support, but is regularly pushed by northern MPs ahead of federal elections.
Leading the charge on this occasion are Katter's Australian Party MPs Rob Katter and Shane Knuth, along with former Labor MP Rob Pyne. Their cause will be aided by the endorsement of Senator Canavan, who said public sentiment should be tested at the polls.
"It's good to focus on big ideas for the country - this is a big idea," he said. "It's up to the people whether they want it or not."
The first term Nationals senator was elevated to the ministry by Prime Minister Malcolm Turnbull in the February reshuffle, and flagged he would focus on water infrastructure. His Rockhampton office is just to the north of the Tropic of Capricorn, which he floated as a possible dividing line for the new state.
Liberal backbencher Ewen Jones says while he doesn't back the proposal, the minister is entitled to spruik the idea.
Mr Turnbull's office had no comment on whether the "split state" question had been discussed by the government or whether Senator Canavan was out of line by backing the idea.
Liberal backbencher Ewen Jones, whose Townsville electorate is in Queensland's north, opposes a split state but said the minister was entitled to spruik the proposal.
"This is what senators do, senators talk big picture because they've got six years to make their point," he said. "I firmly believe that we are already over-governed. If anyone tells me the answer is more politicians, I question the question."
Senator Canavan said that depending on where the boundary was drawn, northern Queensland's population was about one million - or double the size of Tasmania.
"That's a lot of people to govern from a small corner of the south east of Queensland, often more than 1000 kilometres away," he said.
"You can't have states of a 1000 people, of course - that would be non-viable. But as much as possible, I think the guiding principle of subsidiarity - that governments should be as close to the people as possible - is still a good one, it's a very good one."
Source: Great Lakes Advocate