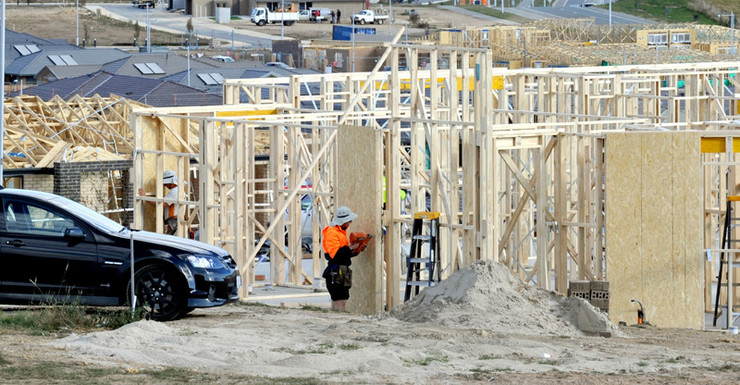 Negative gearing proponents' claims don't stack up
Labor's policy to restrict negative gearing mirrors moves by the states to direct first homebuyers grants to new housing in an attempt to boost construction.
Negative gearing policy has been a battleground for many years and its emergence as a hot button issue in the upcoming federal election has brought the friends and enemies of the practice into the field once more.
Some are warning about "unintended consequences" which they say would "inevitably flow" from paring back the practice, which allows investors to write off interest losses on investment property against other income.
That in turn cuts their income tax liability in the present and turns current taxable income into capital gains when the property is eventually sold, which are then taxed at half the rate levied on ordinary income.
The Labor opposition has put the issue firmly on the agenda, pledging to end negative gearing on existing housing (and other assets) purchased after July 1 2017, while leaving negative gearing as an option only for buyers of new properties.
Since the policy was announced, negative gearing proponents have hit back. Rents will "soar", they allege, property prices will be "smashed", housing starts will decline, and untold damage will be done to the broader economy, they claim.
These assertions are usually based on beliefs about how investors will respond to the removal of negative gearing. They sometimes support their arguments with reference to what allegedly happened when negative gearing was temporarily abolished by the Hawke government between 1985 and 1987.
These assertions don't survive a moment's confrontation with the statistical evidence from that period. Even BIS Shrapnel acknowledged that in a final-page addendum to the report they produced earlier this month.
That report attempted to put some numerical meat on the bones of the scare campaign relaunched by defenders of negative gearing and reiterated some of the arguments of the critics of Labor's policy.
Look at the evidence
But there actually is some more recent evidence which adds weight to the argument that the removal of negative gearing, as envisaged by the Labor Party, will have very few of the effects alleged by this scare campaign.
Over the last five years or so, every state and territory government in Australia – of whatever political complexion – has abolished the grants they have been making to first-time buyers of existing properties introduced since 2000; whilst at the same time increasing (in most case doubling) grants for first-time buyers of new dwellings.
The rationale for these changes has been that grants to first-time buyers of established dwellings serve only to increase the price of those dwellings; whilst restricting grants to those who purchase new dwellings and boosting the grant size, stands at least some chance of directing first-time buyer demand to new dwellings – and thus, potentially, increasing the supply of new housing.
This is exactly the same rationale for Labor's proposals on negative gearing.
The figures tally up
Moreover, the amounts involved are comparable. First homeowner grants have typically been in the band between $7000-$14,000, a similar range to the average rental interest deduction claimed by landlords with taxable incomes under $80,000.
They are the "police officers, teachers and nurses" who, according to the Property Council and the Treasurer, are the ones doing almost all the 'negative gearing'.
In other words, what federal Labor proposes with regard to investors, is very similar in its intended effects, to the aims state and territory governments have with regard to first-time owner-occupiers.
Yet there is absolutely no evidence that these changes, which (to repeat) have been made by every state and territory government over the past five years, have had any adverse consequences on the saleability of existing housing, on house prices, or on the supply of new housing.
While it may not represent definitive proof, it is certainly highly suggestive that what Labor is proposing will not have the dire consequences which those seeking to retain negative gearing in its present form allege.
And it is far more persuasive than the assertions which those who wish to retain negative gearing in its present form have thus far brought to bear on the debate.
Source: TND