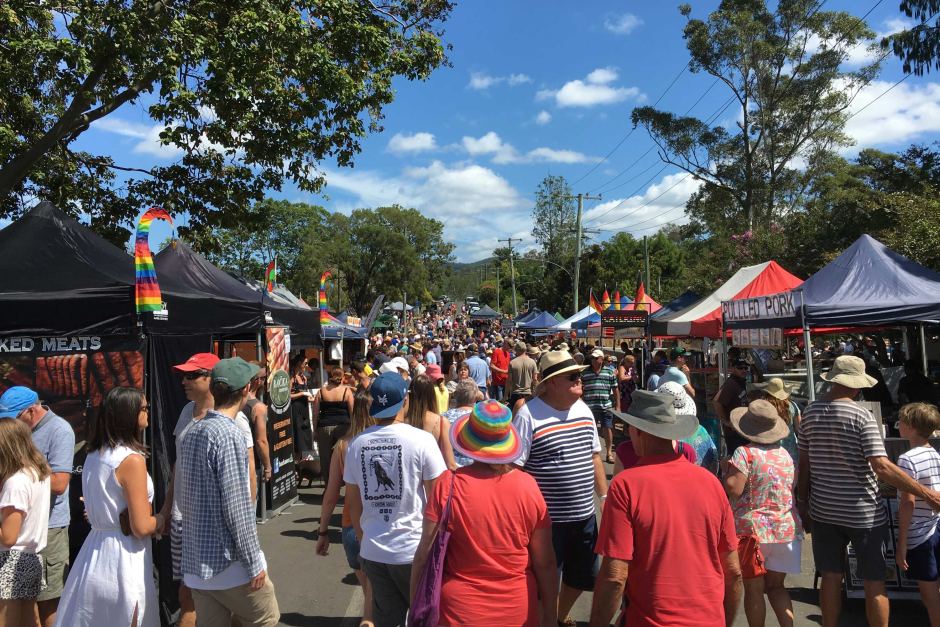 Kenilworth's Cheese, Food and Wine Festival highlights local produce to record crowds
The promise of cheese, wine, food and a warm country welcome lured more than 6,000 people to Kenilworth in Queensland's Sunshine Coast Hinterland over the Easter long weekend.
Just 300 people live in the tiny town, but this time every year it enjoys a population explosion thanks to a free festival, founded on a cheese factory established by Kraft in 1952.
After the company pulled out of the Upper Mary Valley 28 years ago, local business people stepped in and saved the factory.
Everyone just likes to sit back and relax; the wine and cheese is just the icing on the cake.

Joe Elmore, visitor
Kenilworth Country Foods now handcrafts a range of 30 gourmet cheeses, including those flavoured with bush foods like wattle seed, desert pepper berry and mango and macadamia.
"These are natural flavours from the bush that the Indigenous community have been using for thousands of years," Kenilworth Country Foods general manager Warren Maher said.
"We produce a few tonne of cheese a week, and yoghurts and chocolate mousse."
A local dairy farmer supplies 11,000 tonnes of milk to the factory every week and hinterland nurseries grow the bush-food ingredients.
The agritourism dollars generated from the eighth annual festival were welcomed by businesses in the town, which lost its only doctor late last year and has a cafe, art gallery and pharmacy up for sale.
There were traffic jams in the main street and surrounding campgrounds were booked out.
Visitor Joe Elmore was one of 40 members of the Ipswich 4WD club which camped at the Kenilworth showgrounds for the fourth year running.
"Everyone just likes to sit back and relax; the wine and cheese is just the icing on the cake," Mr Elmore laughed.
Local wines getting five-star ratings
Five regional wineries showcased their products for people who may not have previously sampled Queensland wines.
These included the South Burnett's Moffatdale Ridge winery.
"[It's a] beautiful wine growing region; we get the beautiful cool evenings, warm days [and the] soil type is perfect," owner Jason Kinsella said.
"Our signature variety for our South Burnett region is Verdelho and Verdelho makes an amazing sort of fresh zesty dry white which is perfect with seafood.
"Our vines across our region are about 20 years old and now we're winning medals, nationally [and] internationally.
"Our wines are getting five-star ratings in James Halliday's guide."
Organisers of the festival are already thinking ahead for next year and those plans could include new, educational signage for the old cheese factory.
"It's got such a great history and it's just a great success story," Mr Maher said.
Source: ABC Rural News