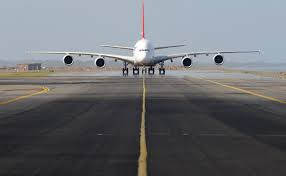 How attacks at Zaventem airport in Brussels will change air travel even in Australia
Australian airports have consulted Federal Police following the shocking attacks on Brussels Airport that could lead to even greater security checks for travellers.
Australia's terrorism threat level last night remained at "probable" as experts cast doubt on the risk of copycat attacks.
Australian National University Counter-Terrorism expert Clive Williams said it was likely this week's arrest of Paris terror suspect Salah Abdeslam had triggered the deadly blasts near the American Airlines' check-in counter at Brussels.
"Obviously there is a ripple effect on aviation when an airport closes down," said Professor Williams.
"All airports will be looking at their own security but I think this situation is very specific to Brussels because there's a militant reprisal to (Abdeslam's) arrest."
Airlines were pointedly avoiding airspace over Brussels last night after all flights in and out of the Belgian capital were cancelled for the rest of the day.
Australia's Department of Foreign Affairs and Trade upgraded its travel advice for Belgium from "a high degree of caution" to "reconsider your need to travel".
Prof Williams said the attack highlighted vulnerabilities in all-access airport spaces with only a handful checking arrivals before entry.
"There's very few airports that have screening before you get to the airport — Narita (near Tokyo) and Tel Aviv (Israel) are two that spring to mind," Prof Williams said.
"It's pretty unusual to have screening before you get to the airport building and it would be difficult to implement."
 Australian airports confirmed they were being guided by the AFP but any increased security measures would be a matter for the Federal Government.
Foreign Minister Julie Bishop said her department was urgently seeking to determine if any Australian had been affected.
"The Australian Government condemns what appears to be co-ordinated terror attacks on Belgium," said Ms Bishop from Indonesia.
"Our thoughts and sympathies are with the people of Belgium.
"I have spoken with our Ambassador Mark Higgie for an assessment of the situation and confirmation that our diplomatic staff are safe."
Prof Williams said the incident may result in a rethink of planned strike action by Customs and Border Protection staff at Australian international airports.
"I think the likelihood of anything similar happening in Australia is pretty low but it would not be a particularly good look for Border Protection officers to be walking off the job," he said.
A 24-hour strike by Customs and Border Protection staff on Thursday is expected to impact all international airports and overseas cruise terminals.
Strategic Border Command Assistant Commissioner Clive Murray said the "health, safety and security" of the public and their staff were the priority.
"We have contingency plans in place to maintain the integrity of the border and limit as much as possible the impact of this action on travellers," Assistant Commissioner Murray said.
Source: Courier-Mail