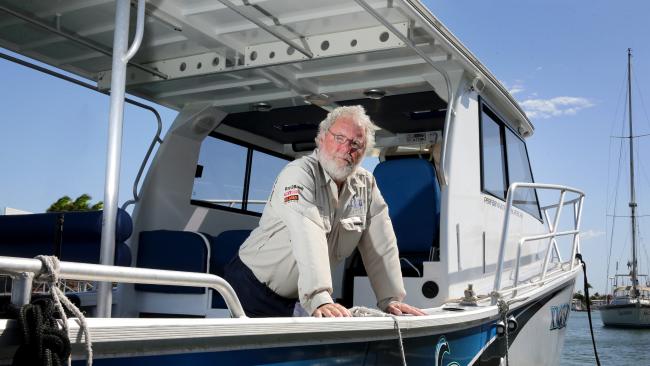 Deception Bay a sea of derelict, abandoned boats
Derelect boats have littered Deception Bay waters, off Scarborough for years and long-time boatie Keith Hall has had enough.
The issue of "Bum's Boat Yard", filled with "unwanted, unloved and unlit vessels", was first raised in November, 2013, and Mr Hall said little had been done to manage the area since.
The retired charter boat skipper said it was time Moreton Bay had a waterways management plan to stop the area looking bad, to reduce the risks to boaties and the environment, and to stop government departments passing the buck.
Mr Hall said there were about 12 illegally anchored boats, including two believed to be abandoned – one stuck in the mangroves and one sinking offshore.
Moreton Bay Marine Park legislation stipulates boats can only anchor for 14 days in the month.
"Queensland Parks and Wildlife Service (QPWS) are the first port of call to enforce this legislation but they don't ... and once a vessel breaks anchor and sinks, like some of the boats have, it is up to Maritime Safety Queensland to clean up the mess," Mr Hall said.
He said a risk assessment and waterways management plan were needed.
 A QPWS spokeswoman confirmed it had been an issue for "some time".
She said officers were on the water most days "conducting both marine park and island operational management". The spokeswoman said eight compliance notices and three penalty infringement notices had been issued in the past three months at Scarborough.
State ALP MP for Redcliffe Yvette D'Ath said Moreton Bay was not a dumping ground and there were consequences for law breakers.
Ms D'Ath said since being reported, 11 boats in the area had been inspected and action was being taken.
She said owners of two of the vessels were yet to be identified and if they couldn't be found, the vessels would be removed.
Ms D'Ath said she would take the suggestion of a Moreton Bay waterways management plan to Minister Steven Miles.
Source: Quest News