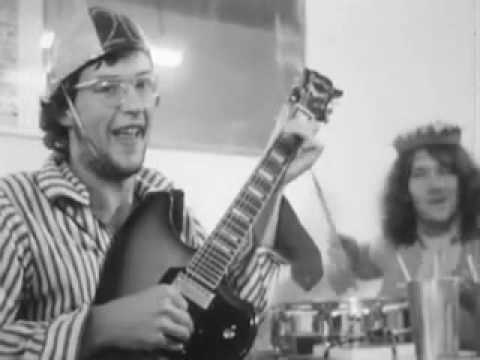 Daddy Cool lead guitarist Ross Hannaford dies
Daddy Cool guitarist Ross Hannaford has died aged 65, months after a sell-out benefit concert to raise money for his battle with cancer.
Hannaford was diagnosed with cancer last year, but continued to perform, and Daddy Cool's Ross Wilson said he would be remembered as one of the country's greatest musicians.
The guitarist formed Daddy Cool in 1965 with Wilson, and was inducted into the Australian Recording Industry Association (ARIA) Hall of Fame in 2006.
Wilson tweeted on Tuesday afternoon: "Sad to tell you that my friend Ross Hannaford has passed away."
ARIA extended its sympathy to his family and friends.
In awarding the honour in 2006, ARIA described the band's story as "one of the pivotal chapters in Australian rock history".
"Their debut single and LP were the biggest-selling Australian records ever released up to that time, and ushered in a new phase of Australian rock, which began to seek new audiences beyond our own shores."
Throughout his career, Hannaford played in a number of bands including The Pink Finks, The Party Machine, Sons of the Vegetal Mother, Mighty Kong, Bambu, Billy T and One Foundation.
Hannaford launched his final solo album, titled Hanna, late last year.
The launch had to be postponed by a number of days after he was too unwell to perform on the original launch date of December 10.
A benefit concert was held to raise money for the ailing star in July last year and featured artists such as Wilson and Wayne Duncan of Daddy Cool, The Black Sorrows, Mike Rudd and Bart Willoughby.
Ross Hannaford busked in Melbourne
He turned to busking in Melbourne in his later years, drawing crowds on the corner of Degraves Lane and Flinders Lane.
Photo:
Ross Hannaford busking on Melbourne's laneways in his later years.
(ABC Local: Clare Rawlinson)
Last year he told 774 ABC Melbourne he initially cringed at the idea when a friend and mentor first suggested busking.
"I said 'oh man you're joking, I don't want to go busking, that's for losers'," Hannaford said.
"Then anyway I got a call from Bart Willoughby [Indigenous singer-songwriter] saying 'do you want to go busking', so I thought this is meant to be."
The two recorded a live set while busking and Hannaford said he made "good money" performing and selling the record on the street.
"I discovered I really loved it, because let's face it, you're a beggar, you're in the gutter, you're not up on some stage or pedestal," he said.
"So if you want to pull in some attention, you've got to do something interesting or different."
Source: ABC News