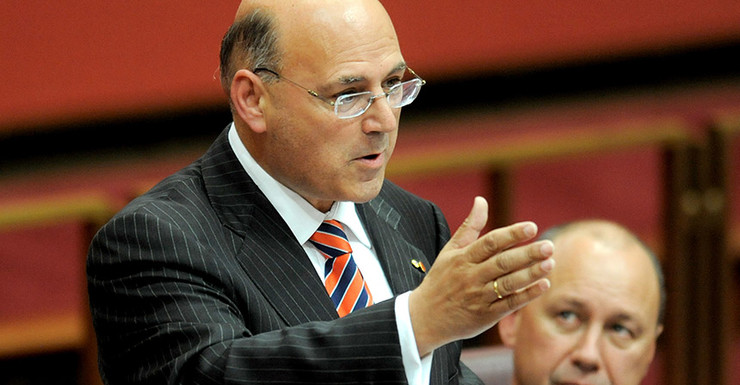 Company tax cuts to benefit workers: Sinodinos
Minister says the cuts can encourage productivity and boost overseas investment, but Labor says the Coalition is all talk and no action.
Federal Labor has called on the Coalition to reveal its plans on company tax, after a senior Turnbull government minister spelled out the case for reducing the burden on business.
The government has backed away from delivering personal tax relief in the May budget, but the option of corporate tax cuts remains.
Cabinet Secretary Arthur Sinodinos said cutting corporate taxation would benefit workers along with the economy.
"Putting money into the hands of consumers obviously encourages more spending and disposable income and has good incentive effects. But cutting company taxes also has good effects," Senator Sinodinos said.
"It can encourage investment, it can encourage higher productivity.
"There are lots of studies that show that that ultimately leads to higher GDP in the economy and higher wages for workers."
Companies with annual turnover of $2 million or more pay a 30 per cent company tax rate, while small businesses last year received a tax cut and now pay 28.5 per cent.
"Another day, another bit of talk, but as we've seen to date on tax, the Liberal Party is all talk and no action," Shadow Treasurer Chris Bowen said.
"The Liberal Party has voted against company tax cuts previously and criticised Labor when talking about aspiring to bring down company tax further."
Shadow Assistant Treasurer Andrew Leigh said Senator Sinodinos' contribution was another thought bubble on tax from the Coalition.
"This government could open a bubble factory to amuse young children," Dr Leigh said.
"But it can't actually get its act together to clearly tell the Australian people what it's going to do to provide the economic leadership that they promised but have failed to deliver."
Treasurer Scott Morrison two months ago said he was "passionate" about addressing bracket creep, but this week said a surplus, strong growth or new taxes were needed before the Government provided income tax relief.
"It's not like '99 or 2000 where we had a major budget surplus, which allowed us to turbo-charge income tax cuts as we were making a major tax mix switch," Senator Sinodinos said.
"So, today it's much more of a hard graft of looking at tax concessions, whether they're fit for purpose and whether the money from tax concessions can be better used in other ways. But the final results of that will be in the budget."
 Source ABC