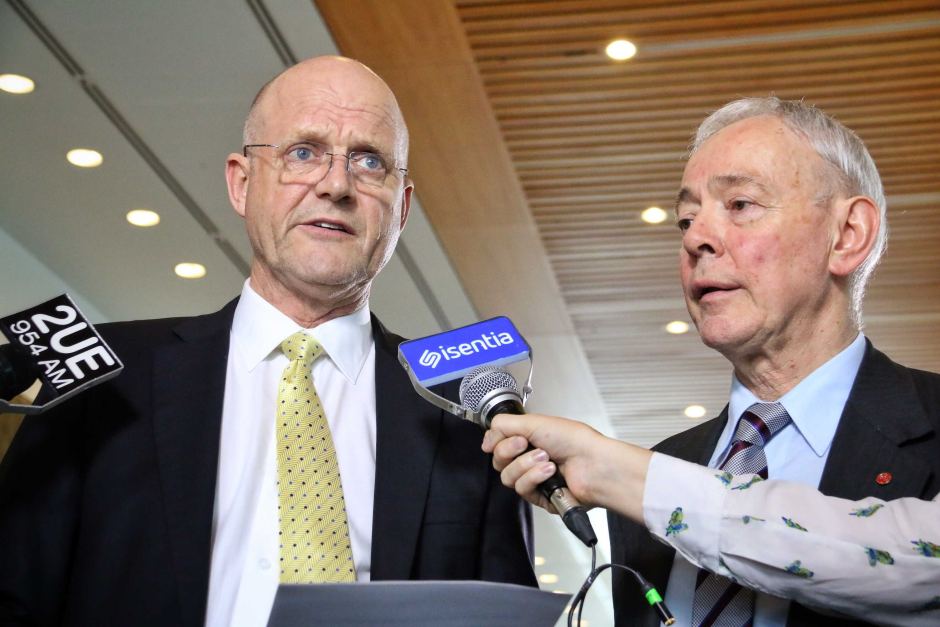 ABCC: David Leyonhjelm hits back at PM's push to negotiate with crossbench as a bloc
Crossbench Senator David Leyonhjelm has hit out at the Prime Minister's attempts to deal with the crossbench as a single entity over the reintroduction of the construction industry watchdog.
Key points:
PM intends to call double dissolution election if Senate rejects ABCC bill
David Leyonhjelm says it is a "silly idea" to try to negotiate a consensus among crossbenchers
Michaelia Cash says individual negotiations with senators not working
Prime Minister Malcolm Turnbull is threatening to call a double dissolution election for July 2 if the Senate rejects the bill to reinstate the Australian Building and Construction Commission (ABCC) for a second time.
The Government needs the backing of six of the eight crossbenchers to get the bill through, but so far has only secured the support of Family First senator Bob Day.
The Prime Minister phoned Senator Day over the Easter break, charging him with the task of seeking out a consensus with other crossbenchers.
"If Bob can present six Senators who are prepared to support the legislation, and if the amendments they propose are ones that are consistent with the purpose and intent of the bill and don't weaken it, we would consider them," Mr Turnbull said.
The approach has riled Liberal Democrat senator David Leyonhjelm.
"We're not a party, the crossbench is not a party, we're very, very, very varied," he said.
Senator Leyonhjelm said it was a "silly idea".
"On one end of the spectrum we've got Bob who supports the Government the vast majority of the time," he said.
"At the other end of the spectrum we've got someone like Glenn Lazarus who supports Labor and the Greens the vast majority of the time."
Employment Minister Michaelia Cash said individual negotiations with senators had not been working.
"You might secure one vote but then you have to go and have that conversation another seven times," Senator Cash told Sky News.
"If the crossbench are serious about passing this legislation, then they need to come to us with at least six votes attached to any particular amendment."
Government still pushing against federal ICAC
Mr Turnbull said the Government was willing to negotiate to get the bill through, but he said the Coalition would not agree to any amendments that undermine the integrity of the ABCC.
A number of crossbenchers are pushing for the Government to commit to a federal ICAC to investigate claims of corruption in public administration, rather than merely construction industry oversight.
Independent Senator Glenn Lazarus and Palmer United Party senator Dio Wang have been leading the push for a national anti-corruption body similar to the New South Wales Independent Commission Against Corruption (ICAC).
"While I recognise that some of the Senators feel there should be a federal ICAC that deals with public servants and politicians and so forth, that is quite a separate issue," Mr Turnbull said.
"What its merits are is open to debate."
Senator Day said he raised a potential idea for a "breakthrough agreement" in his weekend discussions with Mr Turnbull.
"The Prime Minister clearly wants this bill to pass," Senator Day said.
"As I explained to him, if the Government were to agree to address other crossbench senators' concerns about corruption in other sectors - not an umbrella ICAC but sector-specific measures - then I can't see any reason why a breakthrough agreement could not be reached. "
Senator Day stressed he was not a spokesman for the crossbench, but said he could see an opportunity for agreement.
"I'm not talking about amending the ABCC bill, nor am I talking about an all-encompassing umbrella organisation like an ICAC," he said.
"What I am talking about are sector-by-sector anti-corruption measures tailor-made for each of those sectors."
Source: ABC News