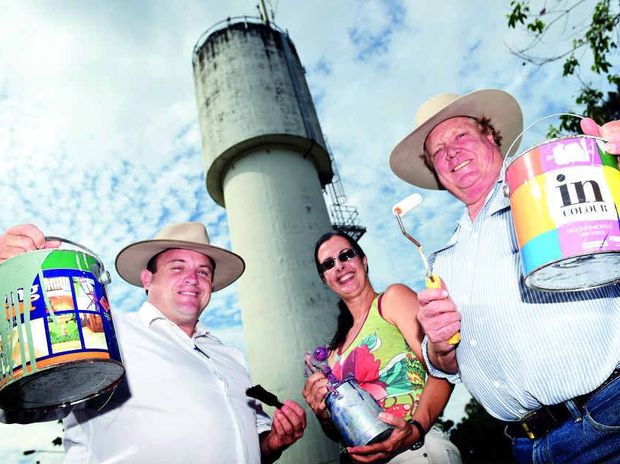 WOW! Woodford gets a makeover
Woodford residents and visitors to the region can be immersed in the town's rich history with the introduction of a new beautification project.
Windows of Woodford will be involving community members in creating and delivering various arts and cultural events and activities that celebrate the area, including a walking trail of storytelling paintings.
Another effort to beautify the streetscape of Woodford will be to dress up the historic water tower.
Woodford Lions secretary Ellen Adriaansen said the club decided to put a lot of their funding this year back into the physical surroundings of Woodford.
"This year we decided we'd put money towards beautification of Woodford but it's a fairly massive project in terms of cost," she said.
Ms Adriaansen said the Lions would focus their funding on the water tower while the council focuses on WOW, which would tie in with the artistic theme painted on the tower.
"I think all up there is 33 stories that will be told between the tower, the toilet block and lamp poles and so the walk will describe what those paintings mean and the idea is that they're all stories about the history of Woodford," she said.
"We're trying to identify all these aspects of Woodford, both historical and current and industry… and they will be represented in theses paintings or designs.
"The local hardware store is already collecting paint for us once in a while."
Moreton Bay Regional Council is providing $40,000 for WOW, which includes $20,000 of Regional Arts Development Funding from Arts Queensland.
Division 12 councillor Adrian Raedel said the direction of the project would be driven by the community.
"Council held two community forums in October and November last year to discuss what makes Woodford unique, and to develop project concepts that would showcase and celebrate the distinct and vibrant arts and culture of the local community," he said.
"The community forums generated some wonderfully creative ideas, ranging from a street beautification project to an interpretive walking trail through Woodford."
Council recently called for expressions of interest from the community for volunteer project co-ordinators who will receive training and guidance throughout the initiative.
The volunteer project co-ordinators will be selected this month and will start planning the delivery of the projects later this year.
Members of the public wanting more information should contact council's Community and Cultural Programs Team at communityprograms@ moretonbay.qld.gov.au or 3205 0555.