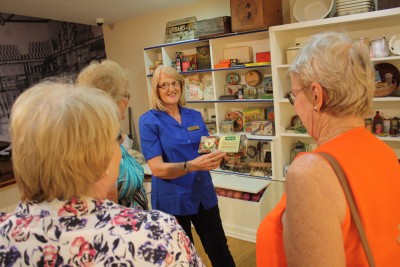 Volunteering In The Moreton Bay Region Lend a hand and volunteer
Was one of your New Year's resolutions to be more involved in your community?  Now is the perfect time to help as a volunteer and make a difference.
Volunteer opportunities exist with local charities, libraries, art galleries, community services, sporting clubs, council facilities and attractions, bushcare groups, non-profit organisations and more.
Eatons Hill's Rod Lanham has been volunteering with Pine Rivers Community Assisted Transport Scheme, a non-profit service that provides low-cost transport for aged and disabled people, since 2007.
Mr Lanham "really looks forward" to driving a 12-seater bus two days a week and says it is "very rewarding to be giving something back to the community".
"The clients we're talking about are 75, 80, 85 and a couple of 90-year-olds, and if it wasn't for organisations like this one they just wouldn't get out of the four walls of their establishment," Mr Lanham said.
"I thoroughly enjoy myself, meeting new people and working with people around my own age… and developing friendships."
Joan Baker-Winn is a sixth-generation descendent of European settlers who came to Samsonvale in the mid-1800s.
That's why she has a vested interest in sharing local history with visitors to the Pine Rivers Heritage Museum at Whiteside.
The former teacher, who now lives at Petrie, has been volunteering at the museum for the past ten years and is one of almost 2000 volunteers who assist in the operation of more than 20 Moreton Bay Regional Council services and facilities.
"Because of the local history with our family it was a natural place to (volunteer), plus I'm a real history buff," she explains.
A Scouts district executive for almost 15 years who also helps with the University of the Third Age Pine Rivers, Ms Baker-
Winn's past volunteer involvements have included Dayboro Scouts, Church Missionary Society and Scripture Union.
"I think I've been a community-minded person for quite a long time," she said.
"Volunteering is enjoyable. You come because you want to come and also it's not just helping yourself meeting people socially, you're learning skills as well.
"Once you get into volunteering you find most stay for a very long time, because you make friendships with those in your workplace while adding to the team sprit."
Jo Cawthera and her teenage daughter Bailey Ford travel from Albany Creek to the Samford Showgrounds at Highvale to help with Samford Riding For Disabled, helping people with a disability through horse riding.
"Where I was working had asked us to reduce our work hours and I had an extra day during the week where I wanted to do something," Ms Cawthera said.
"I've been volunteering now for over 18 months and even in the time that I've been there the improvements that I have seen in some of the kids… is amazing.
"It's really, really quite impressive how much benefit the kids get from riding, both physically and socially as well.
"They can become part of a group of kids that cando something they can enjoy."
Samford RDA will host volunteer training days on 5, 6 and 24 February from 9am to 12pm. Phone 0421 070 802.
Find more volunteer opportunities at www.moretonbay.qld.gov.au/volunteering and www.volunteeringqld.org.au.
Source: The Westerner