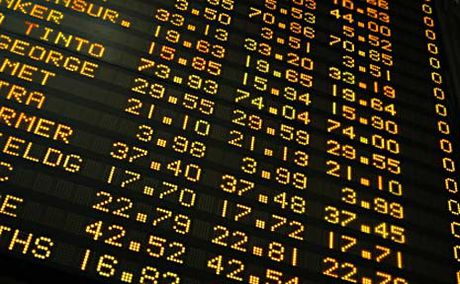 Share market closes flat with finance sector losses offsetting resource gains
The Australian share market closed flat, with losses in finance stocks offsetting gains in the resources sector.
The All Ordinaries dropped four points to close at 5,025 and the ASX-200 lost the same amount to close at 4,976.
The resources sector in general was up more than 3 per cent thanks to a recovery in commodity prices.
BHP gained seven cents to $16.20, Rio Tinto lifted $1.29 to $41.62 and Iluka put on 37 cents to $6.28.
The gains were in the face of losses in finance stocks, with the sector down about 1 per cent. It appeared to be a global play on key Chinese economic data to be released over the weekend.
It is expected to show China's central bank is burning through its foreign exchange reserves at a record rate.
Local eyes were on the RBA as it released its statement on monetary policy. But the bank was cautiously optimistic, saying it expected a gradual increase in growth over the next two years.
Rupert Murdoch's Newscorp released its latest results, showing revenue fell by more than 4 per cent to $3 billion in the December quarter.
Whitehaven Coal results showed a return to profit, despite a big drop in the price of coal.
The New South Wales miner made a net profit after tax of almost $8 million in the second half of last year, compared to losses of almost $80 million in the first half of 2015. But shares in the company lost 3 cents to 41 cents.
Just before 5:00pm (AEDT), gold was higher at $US1,154 an ounce.
West Texas Crude oil was slightly lower at $US31.58 cents a barrel and Iron Ore was higher at $US44.70 a tonne.
The Australian dollar was lower at 71.8 US cents, but has regained most of the ground it lost last month.
Source: ABC News