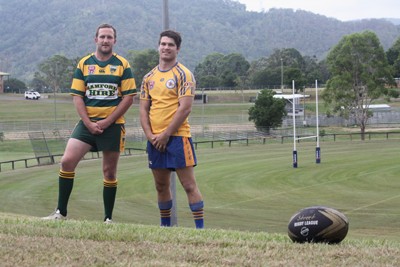 Samford-Dayboro footy feud set to continue
They won't see eye to eye on the field this weekend but Adam Harris and Mick Graham agree on one thing.
That it's virtually impossible to decide which of their teams will go into their Pine Cup clash on Saturday night as favourites.
The Dayboro Cowboys made last year's Northside 1 rugby league grand final but the Samford Stags won three of the four meetings against their local rivals in 2015.
That form guide has Cowboys hooker Harris and Stags lock Graham predicting another tight clash between the teams.
"I think it will be playing in their heads that we were the only team that had it on them last year," Graham said.
"We also know that they're always a good, tough competition, so I can't really split it.
"They always have a pretty good team, Dayboro, and for a small little town they're always very competitive."
The Dayboro-Samford match, which will see the sides vie for the Lawson-McDonald Shield for the 27th time, doubles as the opening round of the popular Pine Cup pre-season competition.
"It's always a hard game and it's a 50-50 call, and both teams are pretty strong when it comes to Pine Cup," Harris said.
Graham says the other Pine Cup combatants, Pine Rivers Bears and Pine Central-Holy Spirit Hornets, make for four weeks of hard and tough rugby league.
"They're pretty much the four hardest games we play all year. There's a lot of feeling there," said Graham, a former Dayboro Cowboys junior.
Dayboro local Harris and Graham, who grew up at Samsonvale, have fond memories of watching Pine Cup games as children.
"It was always exciting to watch them run out there and play and I always wanted to be one of those boys running out there playing on the field, and I finally get the chance now," Harris said.
Harris says the Cowboys players, under second-year coach Adam Heathwood, are keen to take care of some unfinished business this year after losing last season's Northside 1 grand final to Wests Mitchelton 24-21.
"It's made everyone come back and think that we can do it better this year, given we were so close last year," he said.
Graham, who cites Samford coach Steve Hegarty as helping to improve his game "ten-fold", says a strong pre-season has the Stags players ready for an improved season.
Round 1 of the Pine Cup is at Dayboro Showgrounds on 6 February, with Pine Rivers taking on Pine Central at 6pm and Dayboro tackling Samford from 7.30pm.
Following the games, rock band Redsell Brothers will perform at Dayboro Rugby League Club from 9pm.
Source: the Westerner