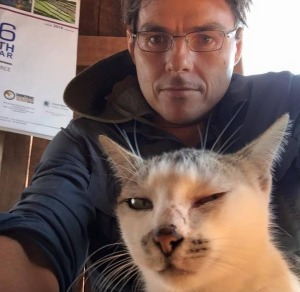 Popular Moreton Bay Region doctor dies in kite surfing accident
The man who died in a tragic kite surfing accident in Moreton Bay on Tuesday has been identified as popular local doctor William von Witt.
​Dr von Witt's body was found in the sea about a kilometre off shore between Woody Point and Scarborough late on Tuesday afternoon.
He was a PhD student at the University of Queensland in mathematical biology as well as working as a medical doctor at the Princess Alexandra Hospital.
Dr William von Witt died in a kite surfing accident in Moreton Bay.
A biography on a research website said he was researching mathematical modelling of glioblastoma.
​Dr von Witt's colleagues at the PA were returning to rotations to learn the news of their popular colleague's sad passing.
The PA's executive director, Michael Cleary, said Dr Von Witt was a valuable member of his staff.
"He had commenced working in January this year and was well-liked and (will) be missed," Dr Cleary said
"Our thoughts are with his family and friends during this difficult time."
An obituary posted in Hobart's The Mercury said Dr von Witt died while windsurfing on his afternoon off work.
Tragically, the day before the accident, Dr von Witt posted about how happy he was with his life in Brisbane.
"As I drove home from the beach yesterday, I realised how amazing my life is now. I live in a city I really love, am physically fit and healthy (prolly still a bit mentally deranged), have a lot of amazing friends and family that I love and who care about me, an interesting job I enjoy and am working on research that fascinates me, to name but a few things," he posted.
"It's been a damn long and tortuous road to get here, and the car nearly crashed many times, but I'm right here, right now and I'm going to make the best of that."
A memorial will be held of Dr von Witt at a date to be advised.
Source: Brisbane Times