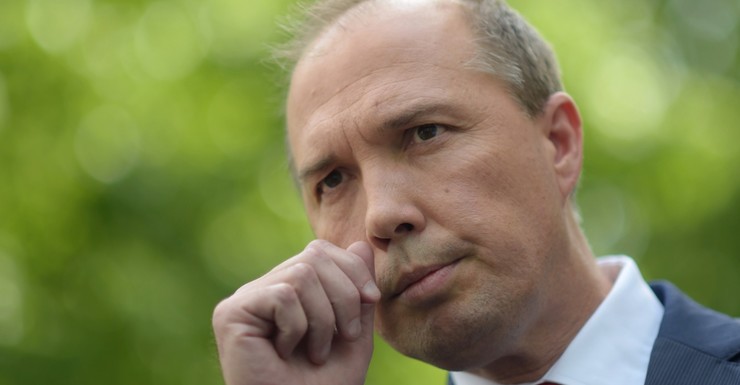 Peter Dutton faces threat from right-wing parties
Micro parties are plotting to inflict electoral pain on anyone who attempts to limit their power.
As many as 30 right-wing micro parties could challenge Immigration Minister Peter Dutton in his marginal Queensland seat of Dickson at the next election.
That was the warning of 'preference whisperer' Glenn Druery, a spokesman for many of Australia's smallest political parties, who said this "fightback" would be the "natural consequence" of any move by the government to change electoral laws to restrict their chances of winning votes.
"I can assure you, in my opinion, this fightback will not fail," Mr Druery told The New Daily on Friday.
Electoral reforms have been contemplated ever since the Motoring Enthusiast Party's Ricky Muir, former PUP MP turned independent Jacqui Lambie and other crossbenchers won a record number of seats at the last election.
The 'preference whisperer', called such because of his knowledge of how to use Senate preference deals to the advantage of smaller parties, said a total of 16 marginal seats held by the Coalition could be targeted, though he was careful not to characterise his message as a threat. Mr Dutton is the only sitting minister at risk.
"This is by no means a threat. It is simply natural consequences," Mr Druery said.
"At the next election, there will be almost 50 minor parties and they are frothing at the mouth with rage at the possibility that the Coalition will threaten their survival.
"It will be a last ditch kamikaze effort by these parties … a retribution of sorts for what they see as an assault on democracy.
"I don't want to be involved in a negative campaign, I see it as counterproductive, but there is a lot of anger. I'm trying to hold back this surge of political venom."
The chances of micro party success in the seat of Dickson are unclear. Mr Druery is famous for Senate preference deals, which come into play when voters vote 'above the line'. The tactic cannot be used in the lower house, where voters must number their full preferences.
Mr Druery suggested that the swarm of right-wing micro parties could confuse voters intending to support Mr Dutton, or draw away crucial conservative support.
The Immigration Minister won Dickson comfortably in 2013 by a margin of 5.1 per cent, but almost lost the seat in the 2007 election when he suffered an 8.8 per cent adverse swing, winning by just 217 votes.
In its April 2015 report, the parliamentary committee on electoral matters made no recommendation that would affect the chances of micro parties.
But Senator Nick Xenophon and the Greens are reportedly lobbying the government for such reforms — a move Mr Druery criticised as "self interest" – to shore up their chances of controlling the balance of power.
Newly appointed Special Minister for State Mathias Cormann told the ABC on Friday that the government had not yet decided on proposed amendments to the voting process.
While the micro parties are vehemently opposed to adverse changes, many would support a switch from full preferential voting below the line — a tedious process that most voters avoid — to limited preferential below-the-line voting, such as no more than six preferences in a normal Senate election, according to Mr Druery.
If the Coalition reaches a deal with Xenophon and the Greens, Mr Druery said the micro parties would target the following marginal government seats: Petrie, Capricornia, Lyons, Hindmarsh, Banks, Eden-Monaro, Lindsay, Page, Deakin, Corangamite, La Trobe, Brisbane, Macarthur, Burt and Dunkley, in addition to Dickson.
The New Daily contacted Mr Dutton's office for comment, but no response had been received at the time of publication.
Source: TND