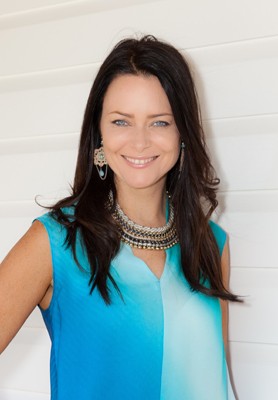 Juliette Wright left stunned by Moreton Bay Region Citizen of the Year award win
Winning Australia Day awards has become a regular occurrence for Juliette Wright, but she says being named Moreton Bay's Citizen of the Year is "one of the highlights of my life".
Mrs Wright, last year's recipient of the Australian of the Year Local Hero award for her work with the Givit charity, said she was "so proud" to receive her latest accolade.
"I've been living in Moreton Bay for 25 years and it is such an honour to be Citizen of the Year for an area I love," said the Camp Mountain local, who was also nominated for the award in 2012.
In 2009 Mrs Wright founded Givit, the online philanthropic platform that has facilitated delivery of almost 130,000 donated items to people in need, including Deception Bay residents whose homes were flooded in an extreme weather event last May.
"We did 6600 items for all those people last year. It was a really traumatic local event," Mrs Wright said.
"It was lovely that Givit was up and going and I had a great team behind me and we made sure that everyone who'd lost everything received exactly what they needed."
Moreton Bay Mayor Allan Sutherland praised Givit for helping 190 flood-affected families to "get back on their feet".
"In some instances, entire households of furniture were replaced. That couldn't have occurred if Givit hadn't linked some very generous local businesses with these families who had lost everything," he said.
"A lot of people have been helped through Juliette's community mindedness and entrepreneurship and we are very proud to have her as a resident of the Moreton Bay Region."
Mrs Wright, previously named Dickson Citizen of the Year, felt she was a "very unworthy" Moreton Bay Citizen of the Year.
"There are people that work in the Moreton Bay Regional Council area as volunteers every day of the year," she said.
"There's so many beautiful volunteers across the region who are continuously working for charities and for community groups."
Mrs Wright lauded one such volunteer, Suzanne Schultz from Strathpine, as "a remarkable woman, full of energy".
A few days after being named Moreton Bay Volunteer of the Year at a ceremony at the Redcliffe Cultural Centre, Mrs Schultz, 70, provided catering for an Australia Day citizenship ceremony at Strathpine.
"Out of 18 of us that were nominated (for the award)… in my wildest dreams I didn't think that I would get it," she said.
"We all do our bit out there, in different ways."
Mrs Schultz's volunteer roles over the past 40 years include Girl Guides leader, Meals on Wheels and RSPCA shop helper, school tuckshop convenor, and 126Army Cadet Unit and VIEW Club committee member.
"I like to see what's going on in my shire and if I can help, I will help. I was made to volunteer," she said.
"It (volunteering) wakes you up to see the advantages and the disadvantages and how you adapt, and I've made a lot of friends."
Other Moreton Bay Australia Day Awards winners were David Norman of Mango Hill (Environment Award), Murrumba Downs' Lloyd Hornsby (Arts and Culture), Clontarf shooter Tracey Jackson (Sportsperson) and Australian Schoolboys rugby player Jack Kelly, of Kippa-Ring (Young Sportsperson).
Charity workers Alijah McDougall of Mango Hill and Rebecca Baker of Upper Caboolture shared the Moreton Bay Young Citizen of the Year award.
"These award winners should be very proud of themselves, because their achievements and community work have stood out amongst a very strong and diverse group of nominees," Mr Sutherland said.
Source : The Westerner