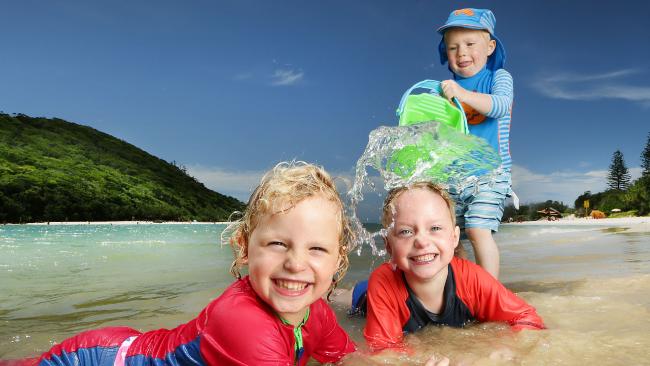 Hot weather: Lives at risk, school work suspended and electricity expected to peak
South East Queensland is well on track for its hottest day in 15 months, with warnings that lives will be at risk.
At 8am Brisbane had already tipped over 30 degrees while Beerburrum on the Sunshine Coast topped the charts with 31.5 degrees.
Meteorologist at the Bureau of Meteorology Jess Carey said high humidity levels were driving up the "feels like" temperature.
"At 6am the humidity was sitting at 65 per cent. That has dropped from the 90 per cent it was sitting at earlier today," he said.
"The expected 'feels like' temperature will be pushing above, towards that 39-40 degrees mark as today moves on."
Today is expected to be the hottest day in Brisbane and surrounding areas since the G20 conference in November 2014.
Relief is not far away however, a southerly change is expected to roll in tonight, cooling temperatures overnight and into tomorrow.
OVERNIGHT: Safety fears as summer hits peak
LIVES will be at risk, school activities suspended and electricity infrastructure tested by a record peak in power use as the southeast sizzles today.
Brisbane is tipped to reach 37C, fanned by westerly winds, but with high humidity it will feel more like 40C.
Residents will wake to 27C, battle heat through the day and gain no relief at night with temperatures lingering at 30C until 7pm.
Health officials have ordered people to stay indoors with airconditioning where possible and check on the elderly and frail.
The southeast's energy provider, Energex, is bracing for record-breaking use as consumers drain power with airconditioners and fans, especially during the peak period from 4-8pm.
"Energex's record for summer peak demand is 4760 megawatts, which was recorded in the summer of 2009/2010. Yesterday's electricity demand stood at 4500 at 5pm," a spokesman said. "Tuesday's demand could go even higher and could set a new record for electricity use, due to the expected higher temperature forecast for the day," he said.
"Energex is confident we have the capacity within the network to cope with the ­expected high demand." Queensland schools suspended some activities and postponed sports as the heat took hold yesterday.
An Education Queensland spokesman said schools should monitor their students in heatwave conditions and encourage them to use the "coolest areas of the school grounds".
Several schools cancelled morning tea and lunch breaks outside, gathering students in airconditioned halls or computer labs. This will be more widespread in today's hotter conditions.
QUT Faculty of Health Associate Professor Adrian Barnett said temperatures above 25C were potentially dangerous and the death rate doubled.
"Twice as many people will die today as we would expect on a day of 23C," he said.
Prof Barnett said one in 200 deaths in Australia were heat-related with heat stroke accounting for some but many logged as heat-induced heart attacks and pre-existing conditions.
Heat puts pressure on the cardiovascular system with veins coming to the surface and blood pressure dropping.
He said research showed heat increased incidences of car crashes and mental health issues, particularly irritability.
A person sweating outside in today's heat stands to lose 1- 1.5 litres of fluid every hour and should replenish their system with water, food and drinks containing electrolytes.
Ipswich Hospital will bear the brunt of heat-related illness with temperatures to hit 38C at 1pm.
Senior medical officer Dr Denis McCarthy expects to see admissions today for a range of issues from sunburn, mild dehydration to severe heatstroke. Heatstroke occurs when a person's internal temperature rises above 40C and their organs start to suffer.
"It could happen in one to two hours in the heat," Dr McCarthy said.
"The elderly are particularly at risk of heat stroke and those are the ones we would be particularly worried about … they may be unable to move themselves out of the hot environment."
Queensland Health's Dr Peter Atkins urged people to check on neighbours.
"Queensland Ambulance Service and most hospital departments will see more people presenting with illness," he said.
Weatherzone's Kim Westcott said the last time Brisbane hit 37C or higher was November 16, 2014, when it was 38.9C.
The hottest February day on record was in 2004 on the 22nd when it was 41.7C.
The weather bureau's Adam Woods said conditions today would be hotter than yesterday with about 60-70 per cent humidity making for "uncomfortable conditions".
"The Brisbane winds will be about 25-35km/h westerly winds, meaning the sea breeze can't get in … come Thursday, we see a coastal trough move up the coast and we see a south to southeast change, so we're brought back down to the average, which in Brisbane for February is 30C."
Source: Courier-Mail