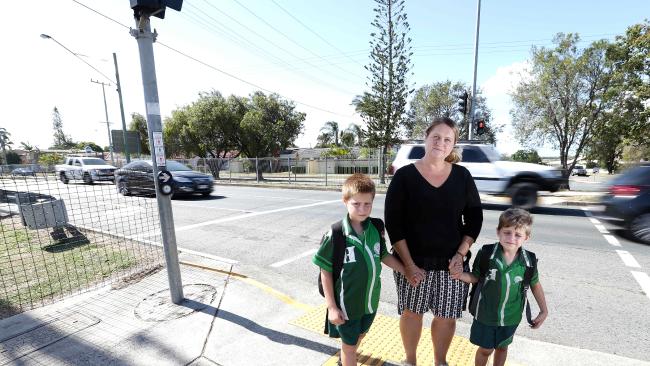 Hercules Road State School parents are calling for an overpass after a four-year-old boy was hit while crossing Anzac Ave at Kippa-Ring
Parents from Hercules Road State School at Kippa-Ring are calling for an overpass after a four-year-old boy was hit by a car while crossing the busy road outside the school.
The boy was crossing Anzac Ave with his mother on February 15.
He is recovering in Lady Cilento Hospital and police are investigating.
Hercules Road State School parent Richelle MacArthur walks across Anzac Ave with her two boys every morning and afternoon.
"Nerve-racking" was how she described crossing the busy intersection.
"Something needs to be done, ideally an overpass so the children are nowhere near the road," Mrs MacArthur said.
The long-time Peninsula resident said the situation was only going to get worse once a new development and the Moreton Bay Rail Link were finished.
"If pedestrians are removed from the road cars don't have to stop for them," Mrs MacArthur said.
Mrs MacArthur's view was shared by many parents who took to the Redcliffe Bayside Herald Facebook page to vent their frustration.
■ Laura Topfer: "It's such a bad intersection with all the school/work traffic at that time. And it will only get worse with the new railway! Maybe an overpass like Redcliffe High is the answer?"
■ Chris Glover: "That road is getting busier by the month. Once those new homes go in north of Hercules Rd it will get busier. A pedestrian foot bridge is needed. My kids cross there every day and it is a worry."
■ Hayley Manning: "Kids need to stand back from the kerb. It such a dangerous place. I used to pick up my nieces and worried every time we crossed that road ..."
■ Jane Irvin: "I have had concerns for the children crossing there for years. I had three boys go to school there. We live down the either end of Hercules Rd where Stockland are building a new estate. Between that and the new railway station, it is going to get a heck of a lot busier and more dangerous. A overpass should have been placed there long ago to allow children to cross safely.
Understanding that an overpass would cost money Mrs MacArthur said there were other more cost-effective safety measures that could be put in place.
These included installing gates at the entrance to the crossing, similar to those at train stations, that prevent children from walking onto the road until it is safe to cross.
"I know it doesn't stop these type of things though," Mrs MacArthur said.
An Education Queensland spokesman said student safety was the department's highest priority.
He said school staff undertook bus duty and there was a crossing supervisor working on the road parallel to Anzac Ave.
The school has also altered its hours to help ease congestion, with school running from 8.30am-2.30pm.
"Hercules Rd State School has been consulting with the Department of Transport and Main Roads and the Moreton Bay Regional Council for a number of years," the spokesman said.
"Recent discussions have focused on the impact of the Kippa-Ring railway station, longer traffic light times off Hercules Rd and an increase in the pedestrian crossing time across Anzac Ave.
"These issues were again discussed this week along with other suggestions such as changing the speed limit on Anzac Ave."
A Main Roads department spokeswoman said there was no school zone along Anzac Ave as students were able to cross at the signalled pedestrian crossing.
She said there was no plan for a pedestrian overpass at Anzac Ave.
Source: Quest News