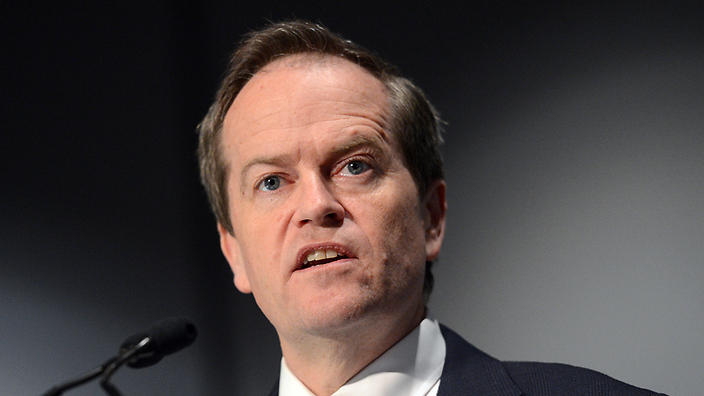 federal Labor proposes a Negative gearing decision 'hard but fair'
Bill Shorten says Australia's tax system is like a 'leaky bucket' and limiting access to negative gearing can help fix it.
The federal opposition leader will use a speech to the NSW ALP conference on Saturday to reveal Labor's plan in government to make negative gearing only available on newly constructed homes from July 2017.
But there would be no change for existing negatively geared property.
Shadow Minister for Immigration Richard Marles told Sky News the decision is a hard but fair one.
'This policy is going to put new home buyers on an equal footing in the housing market and help housing affordability,' Marles said on Sky News' Pyne and Marles program.
Capital gains tax concessions would also be cut from 50 per cent to 25 per cent, also with no change to the rules applying to existing assets.
And the family home, along with personal superannuation, would be 100 per cent capital gains tax free.
'Taken together, these decisions will save $32.1 billion (over 10 years) and help put fairness back into the housing market,' Mr Shorten says.
Analysis by the McKell Institute shows the negative gearing changes could create up to 25,000 new construction jobs annually and add $4.5 billion to economic growth.
Costs for renters would also drop.
Mr Shorten says fixing the 'leaky bucket' is necessary to grow the economy, create jobs and improve the sustainability of the budget.
'The holes are costing our country money and subsidising people and firms who don't need government handouts,' he said.
'Every dollar in revenue lost through a loophole is a dollar that can't be invested in our future - in our schools, universities and TAFEs.'
Negative gearing occurs when the cost of owning a rental property outweighs the income it generates each year.
This creates a taxable loss, which can normally be offset against other income, such as a salary or wage, to provide tax savings.
The housing industry has previously argued restricting access to negative gearing would reduce investment in housing, make it more unaffordable and put pressure on rents.
But studies by welfare groups and unions have pointed to economic benefits.
Source: AAP