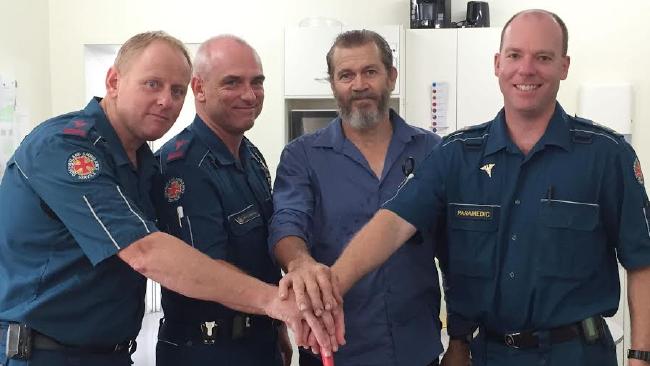 Caboolture firefighter Rowan Clem thanks paramedics who saved his life
As a firefighter Rowan Clem is used to putting his life on the line to help others — but last week it was Mr Clem who was thanking others for saving him.
After working out in the gym before a night shift at Caboolture Fire Station on October 15, Mr Clem suffered a serious heart attack.
Luckily, Caboolture Fire Station is housed with Caboolture Ambulance Station and Mr Clem was able to quickly seek help.
Andre Stewart was one of the advanced-care paramedics on hand and said if Mr Clem had sought help just a minute later, the story could have been very different.
"We had just been called out to a job and as we were leaving I saw him through the corner of my eye," Mr Stewart said.
"We sat him down and told him we'd sort him out.
"He would have quickly deteriorated if we hadn't been there."
Mr Stewart tended to Mr Clem along with advanced care paramedic ­Donald Maclean and critical care paramedic Casey ­Robinson.
They transported Mr Clem to the Prince Charles Hospital for treatment, ­calling ahead of time so the hospital could prepare to immediately receive him when they arrived.
Mr Clem thanked the paramedics who saved him at a special breakfast last week where they were awarded certificates of ­appreciation.
"It's extremely satisfying, we get that many calls, it's wonderful when we can make a difference," Mr Stewart said.
Mr Clem has still not returned to work but is recovering well from his ordeal.
Source: Quest News