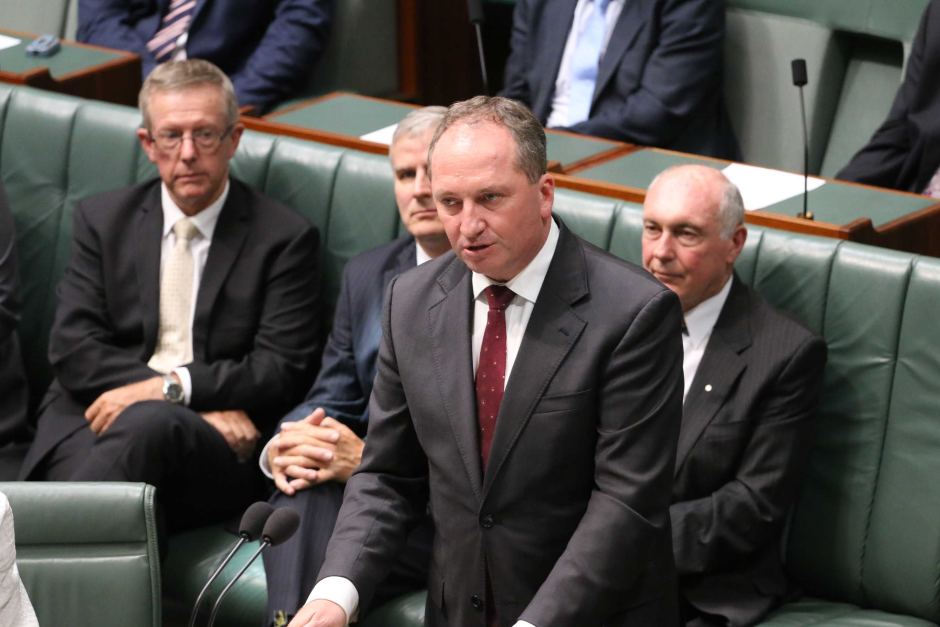 Barnaby Joyce says early election 'possible, not probable'
Deputy Prime Minister Barnaby Joyce says it is possible – but not probable - Australia could head to an early election in July.
Key points:
Barnaby Joyce says election date likely to fall between July and October
Christopher Pyne says there is precedence for a July election
Senator Glenn Lazarus predicts early poll
The ABC reported earlier this month that Prime Minister Malcolm Turnbull had kept open the option of calling a double dissolution election if the Senate rejected the reintroduction of building watchdog, the Australian Building and Construction Commission.
The latest Mr Turnbull could call a double dissolution is the day after the federal Budget in May.
A number of senior Cabinet ministers have today refused to rule out the option.
Deputy Prime Minister Barnaby Joyce said while the election date is likely to fall between July and October, nothing has been locked in.
"It's possible because it is possible, but it doesn't mean that it is probable, possibilities and probabilities are getting confused in this issue," Mr Joyce said at a superannuation conference in Sydney.
"What we're trying to be is completely open and honest and frank with the Australian people."
Industry Minister Christopher Pyne said there was precedence for holding a federal election in July.
Mr Pyne told Channel Nine voters should not be surprised about the timing of the election.
"The election is due in August, September, so an election in July would not be regarded by the public as an early election."
"We haven't had an election in July since 1987. So it's as good a time as any, but I don't think that there is any plan to have an election in July."
Independent Senator Glenn Lazarus, who was at a Crossbench dinner with the Prime Minister last night, told the ABC he thinks Mr Turnbull was preparing to call an early poll.
"I think it's certainly very possible," he said.
Source: ABC News