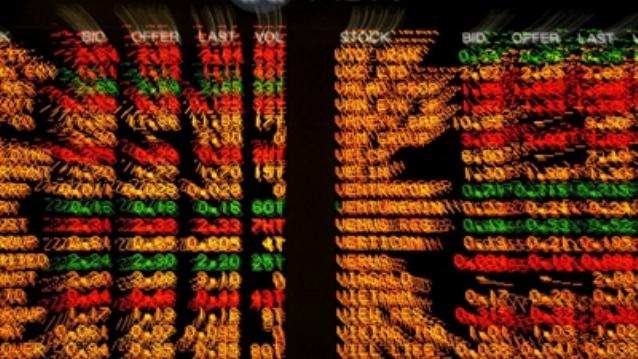 ASX: Australian shares fall another $25 billion with banks leading the way
The Australian share market has lost another $25 billion in value, backing up a $42 billion slump yesterday, on a continued bank sell-off.
The benchmark ASX 200 index was off 1.8 per cent to 4,746, and the broader All Ordinaries was down 82 points at 4,800 by 12:35pm (AEDT).
Banks were again leading the falls, despite a modest gain of 0.4 per cent for Australia's largest lender, CBA, on its $4.6 billion half-year profit.
The rest of the big four were hammered, with National Australia Bank slumping 3.5 per cent, ANZ 3.3 per cent and Westpac 2.3 per cent to $28.02.
Bank of Queensland backed up an 8 per cent share slump yesterday with another 6.4 per cent slide to $10.91 today, while Bendigo and Adelaide Bank also lost another 5.25 per cent.
Investment bank Macquarie was off 2.7 per cent to $59.
Oil and gas firms were the other sector in the firing line - and it is in large part their debts to the banks that have put the financial sector under intense selling pressure.
Santos was 7.5 per cent lower to $2.83, Origin 5 per cent down to $3.63, Oil Search 4 per cent off to $6.47 and Woodside 3.1 per cent lower to $25.89.
West Texas crude was down to $US27.91 a barrel overnight and Brent is clinging to levels just above $US30.
Other commodity producers were also being sold down.
BHP Billiton was off almost 4 per cent to $15.42 and Rio Tinto was down 2.6 per cent.
Even gold producers were on the nose today after their stellar run over the past couple of weeks.
Newcrest was down 4.8 per cent to $16.
The Australian dollar remained stubbornly resilient against the greenback at 70.4 US cents.
Source: ABC News