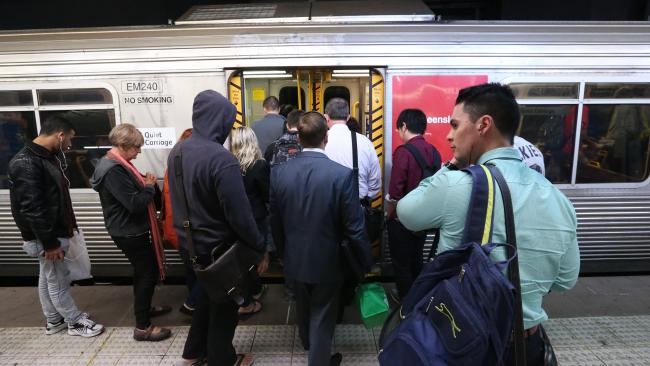 What will Queenslanders end up calling Brisbane's newest train line, the Moreton Bay Rail Link?
Just months out from the first trains running on Queensland's newest train line, attention has turned to what the line will be named.
Currently referred to as the Moreton Bay Rail Link, the 12.6km track will connect Petrie, on the Caboolture line, to the Redcliffe Peninsula via Kallangur, Murrumba Downs, Mango Hill and Rothwell.
It is due to open midway through this year — more than 120 years since the rail to Redcliffe was first proposed in 1895.
But, surely commuters will not be calling this the Moreton Bay Rail Link when glancing up at flashing screens to find the next train time.
A Transport and Main Roads (TMR) spokesman said no decision had been made. In fact, the naming responsibility could rest with the locals.
"Southeast Queensland train lines are generally named after the last station, however at times are named after the region they transport passengers to, for example, the Gold Coast and Sunshine Coast lines," the spokesman said.
So, will it be the Redcliffe line? Or technically correct, the Kippa-Ring line?
Maybe it will play fair to all stations and be the Moreton Bay line? But, it is a long way from Moreton Bay and only known as Moreton Bay for the council area. This could be confusing for interstate or international travellers.
"A decision is yet to be made on the naming on the line, however we welcome the Moreton Bay community's feedback on what they would prefer the new line to be called," the spokesman said.
Extensive testing is now being done on the line, before the six new stations are up and running in coming months.
Source: Quest News