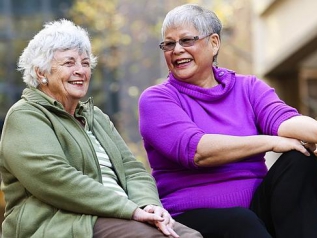 Reports of assaults in aged care up 10 per cent in past year
The number of reported assaults at Australia's aged care services has increased by more than 10 per cent to 2625 in a year.
Of the reports, 2199 were for alleged or suspected unreasonable use of force, 379 for unlawful sexual contact and 47 as both.
There were also 3725 complaints made about the standard of care in government subsidised aged care facilities and 1127 reports of missing people or unexplained absences, according to the latest government aged care report.
The top areas of complaint were about health and personal care, including infections; consultation and communication, including internal complaints; physical environment, including call bells and cleaning and personnel, including staff numbers, training and medication management.
There are around 231,000 Australians in permanent residential aged care facilities and more than 800,000 Australians access home care services. Aged care providers must report suspicions or allegations of assaults to police and the department.
With 231,555 people receiving permanent residential care in 2014–15, the incidence of reports of suspected or alleged assaults was 1.1 per cent.
The rate is above that for the wider population of Victoria for the same period – which was 0.91 per cent.
A spokeswoman for the Federal Department of Health said "the health, safety and wellbeing of older people is of paramount importance to the Australian government".
She said while the number of assaults reported "is of concern" it remained consistent with the long term trend of being about 1 per cent of the aged care population.
She said aged care homes receiving Commonwealth funding had to complete an accreditation process and were subject to at least one unannounced compliance visit each year.
The number of complaints reported to the government regarding aged care facilities in 2014-15 was fewer than the year before.
Scrutiny of Australia's aged care sector is changing with a new National Aged Care Quality Indicator Programme launched at the start of January that will initially report on the number of pressure injuries, the use of physical restraint and cases of unplanned weight loss at services that volunteer to participate.
The first data will appear on the My Aged Care website from April when the number of participating services will also become clearer.
There is also a new independent watchdog with a new Aged Care Complaints Commissioner, Rae Lamb, who started on January 1.
The commissioner has received 116 complaints nationally since the start of the year.
Ms Lamb said she wants to help improve quality and people should avoid leaving until the last minute decisions about aged care if they can.
She encouraged people to have an early conversation with aged care providers about services and expectations.
"Often people are in situations where things have become urgent and they have to make their decisions when they are under a lot of stress and a lot of pressure," she said.
She said anecdotal evidence and word of mouth were helpful when choosing an aged care provider.
"Sometimes the places that are the flashest with all the bells and whistles aren't necessarily always the best place to go for care – I think you have to find out about other people's experience and also be quite clear about what actually matters to you," she said.
Ms Lamb said she wants to improve the quality of care before it reaches the complaints stage and "not just be the ambulance at the bottom of the cliff but also the fence at the top and also work with services to make sure they do a much better job of dealing with people's concerns in the first instance".
"I do want to make it absolutely clear that poor care is unacceptable," she said.
By the numbers
Notifications of reported assaults: 2625
2199 were alleged or suspected unreasonable use of force
379 alleged or suspected unlawful sexual contact
47 as both
Notifications of unexplained absences: 1127
Number of complaints regarding an aged care provider: 3725
Source: 2014-15 Report on the operation of the Aged Care Act 1997
Those with concerns about an aged care provider can contact the Aged Care Complaints Commissioner on 1800 550 552 or by visiting the website www.agedcarecomplaints.gov.au.
Source: Brisbane Times