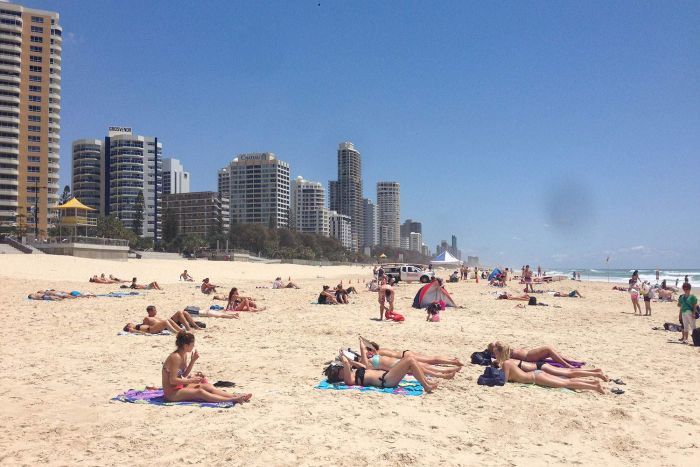 Queenslanders in for heatwave, strong surf swells in lead up to Australia Day, BOM warns
Queenslanders are being warned to stay cool and swim between the flags in the lead-up to Australia Day, with an extreme heatwave and dangerous surf conditions expected in coming days.
Key points:
'Deceptively powerful' surf swells forecast for Gold Coast, Sunshine Coast over the weekend
Severe storms likely to hit across south-east on Saturday
'Severe to extreme' heatwave to push temps above 40C in parts over next week
With the national public holiday falling on a Tuesday this year, many Queenslanders are gearing up for an extra long weekend by the beach.
But the Bureau of Meteorology (BOM) has warned some parts of the state are in for an extreme heatwave and dangerous surf conditions over the next few days.
Beach-goers on the Gold Coast and Sunshine Coast have been warned to be prepared for "deceptively powerful" swells forecast over the weekend.
Senior forecaster Brett Harrison said the strong swell would make coastal activities like swimming and fishing dangerous.
"There will be a fair amount of power behind it, even though the waves may not be particularly high," he said.
But Mr Harrison said the swell heights were expected to rise.
"The swell heights will increase into the weekend so we are looking at the swell heights getting up to around 2 to 2.5 metres on Sunday and Monday," he said.
According to BOM's Rick Threlfall, the swell is being generated by Cyclone Victor, which is circling east of Fiji.
In addition to the dangerous surf conditions, the south-east has also been warned to prepare for severe storms over the weekend.
Bureau of Meteorology's Rick Threlfall told 612 ABC Brisbane that the storms were likely to hit on Saturday.
"A trough system is moving in on the west on Saturday and there will be showers and storms around in the afternoon," he said.
"Storms could be severe throughout the Darling Downs and will move into the Ipswich area.
"Later on in the day they may make their way to the coast."
He said the storms could see wind gusts of over 90 kilometres per hour.
Heatwave to push temps above 40C
Meanwhile, "severe to extreme heatwave conditions" are forecast for some parts of Queensland over the next week.
The mercury is expected to hit 40 degrees Celsius in some areas by the weekend, and by Wednesday, it is forecast to exceed 45C in places such as Urandangi, Boulia, Bedourie and Birdsville.
Doctor Ulrich Orda from the Mount Isa Hospital emergency department said people should stay indoors if possible.
"It takes some time for these conditions to develop and that implies the best protection from heat-related injuries — heat exhaustion and heat stroke — is that you stay inside in an air-conditioned room," she said.
Doctor Orda said while locals were generally used to hot conditions, some people could be more vulnerable.
"It's the people that normally don't work outside that much or tourists that are travelling through that will present to us with heat exhaustion, heat stroke, or dehydration secondary to heat," she said.
Source: ABC News