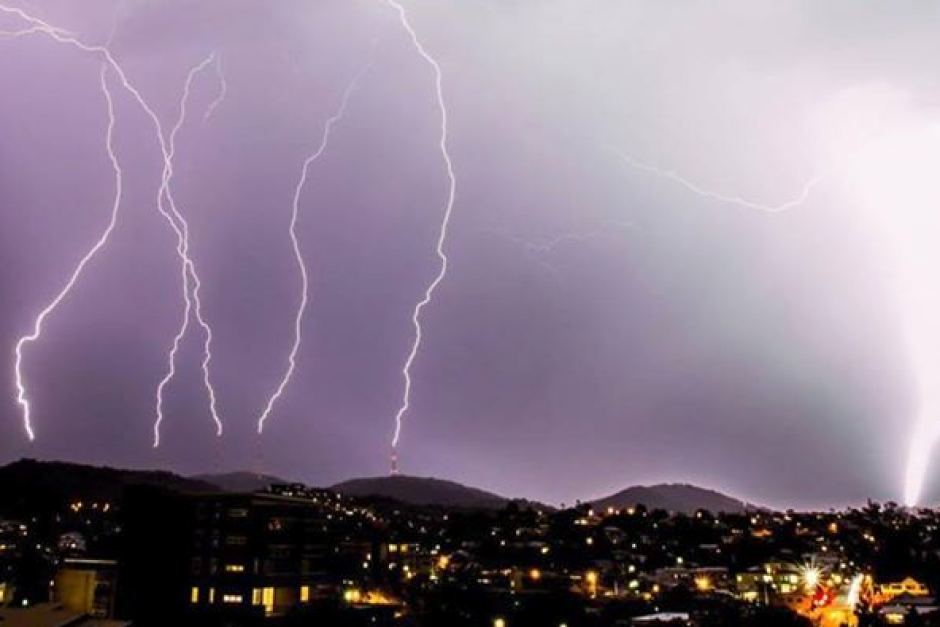 Queensland weather: Severe thunderstorm warning issued but Do Not panic
There is a high chance parts of Queensland will be hit by severe weather today, and there is the possibility of a supercell event, the Bureau of Meteorology (BoM) says.
Key points:
BoM forecasts chance of severe thunderstorms for parts of Queensland
Chance of a supercell event 'hyped up' by people outside BoM
Parts of Sunshine Coast record up to 129mm of rain overnight
Unstable and moist conditions are expected to bring storms from the north-west down to the south east this afternoon.
At 12:40pm, BoM issued a weather warning, saying thunderstorms had begun developing over the Darling Downs and Granite Belt.
It said locations likely to be first affected included Warwick, Toowoomba, Dalby, Stanthorpe, Oakey and Goondiwindi.
This morning, BoM senior forecaster Michelle Berry urged residents to stay alert and check forecasts.
"We're talking about storms that could possibly have some large hail, damaging to destructive wind gusts, and some very intense rainfall," she said.
"It's a day where you want to be alert and aware and keep up with the forecasts and look out for any warnings issued by the weather bureau."
Fellow BoM forecaster Michael Knepp told 612 ABC Brisbane the severity of the storms would depend on whether heavy clouds cleared.
"We have a fair bit of low cloud this morning ... about 500 feet above the surface. That could actually negate severe thunderstorms later on today," he said.
"We also have high cloud coming in from the west pushing through, and that too could negate storms today.
"But there is that potential. [There is] a lot of moisture in the atmosphere, this low cloud right now is being created because of the abundant moisture in the atmosphere, and storms just love moisture.
"If we get free of this low cloud, free of that high cloud … conditions will be right for severe thunderstorms later this afternoon."
'Residents shouldn't get caught up in hype'
Yesterday, the bureau did not rule out the possibility of a supercell thunderstorm occurring.
But this morning, Mr Knepp said the chance of supercell activity had been talked up by people outside the bureau.
"We probably shouldn't get caught up in the hype," he said.
What is a supercell?
The supercell is a special thunderstorm type in which the system can maintain an intense steady state for many hours.
A highly organised circulation with a continuous large updraught, control over the surrounding atmosphere and magnified size and impact make this a fascinating but dangerous cloud complex.
Supercells account for most of the serious thunderstorm events we experience.
Source: bom.gov.au
"This sort of event's really been hyped-up by people outside the bureau … we've had days already this year just like today and these days haven't been hyped up at all.
"There is potential for severe storms, but it's not like one of the most amazing days I've ever seen, put it that way.
"There's potential we might not get supercells at all today, we might seeing storms develop fairly early and they just blob out into a big mess."
Ms Berry said supercells were extremely difficult to forecast.
"For us to actually try and pinpoint today which locations might experience a supercell is extremely difficult," she said.
"If anyone tells you they can, I'm afraid I think they're not fully telling the truth.
"There is some environmental characteristics today that indicate a supercell may be possible ... but for point location forecasting, it really is quite challenging.
"It's really important to go to the source of weather information, which is the weather bureau."
Sunshine Coast braces for weekend of wild weather
Overnight, the Sunshine Coast received close to 10 per cent of the region's annual average rainfall.
Parklands saw 145 millimetres of rain, Mapleton received 129 millimetres, while Nambour recorded 104 millimetres, according to the BoM.
The Sunshine Coast Council has placed the Local Disaster Management Group on alert to monitor weather conditions.
Coordinator Andrew Ryan said flash flooding was possible over the weekend.
"What we saw in last night's storms are what we call micro bursts of short duration heavy rainfall, so there could be significant rainfall in one location and virtually none in the next suburb – that's why it's important that everyone across the region is aware and prepared for the unstable weather conditions," he said.
"It's easy to be complacent when we haven't had severe weather for some time, but flash flooding, damaging winds and large hail are all very common with these types of thunderstorms."
Mr Andrew said the group would remain on alert until Sunday.
Related Stories :
Source: ABC News