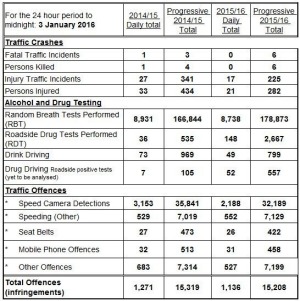 Queensland road toll: More than 550 drivers caught on drugs over Christmas
An alleged Hells Angels bikie is one of a skyrocketing number of drug-drivers charged on Queensland roads over the Christmas break.
More than 550 drivers tested positive for drugs over the 12-day period, five times more than last Christmas, correlating with a hefty increase in testing.
The 32-year-old Brassall man was stopped on the Warrego Highway in Ipswich on Sunday, where he allegedly tested positive to cannabis and methamphetamine.
Final figures for phase two of the Queensland Police Service Christmas road safety campaign (December 23-January 3).
Six people died over the Christmas break, up two from the same period 12 months ago but injuries dropped dramatically, from 434 in 2014/15 to 282 in 2015/16.
Advertisement
Almost 800 drivers were charged with drink-driving over the 12-day Christmas road safety campaign, another drop from last festive season, but still disappointing according to police.
"Over the past 12 days, officers have seen thousands of drivers being irresponsible on our roads and putting themselves, their passengers and other road users at risk," Assistant Commissioner Mike Keating said in a statement.
"A motorcycle rider was caught speeding at 215 kilometres per hour in a 110 zone on the Sunshine Coast while a cyclist returned a B.A.C. reading of more than six times the legal limit in Stafford.
"The number of motorists taking illicit drugs before driving is concerning and we intend to substantially increase the number of roadside drug test throughout 2016."
Speeding, using mobile phones and not wearing a seat belt offences all dropped slightly from the previous period with drug driving the only significant increase, likely thanks to police conducting five times more tests.
Source: Brisbane Times