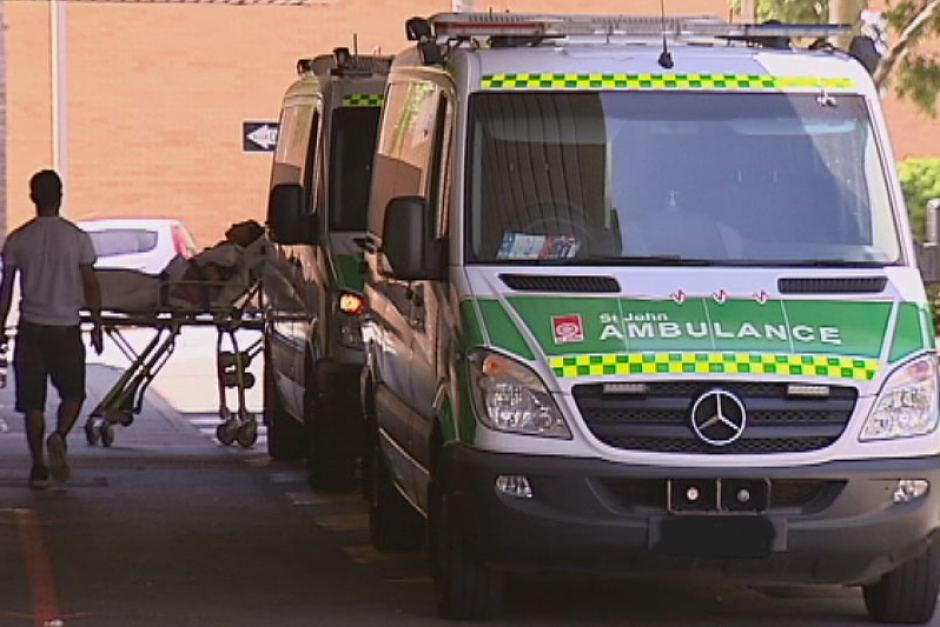 Paramedic assaults: Safety training fast-tracked after spate of assaults in south-east Queensland
Safety training for all Queensland Ambulance Service paramedics (QAS) has been fast-tracked following assaults on three officers less than an hour apart in south-east Queensland.
Key points:
Safety training fast-tracked after three paramedics assaulted less than an hour apart
QAS paramedics to be trained in situational awareness and de-escalating incidences
Paramedics say nurses, doctors, general health workers also at risk of assault
A 41-year-old female paramedic had to be treated at hospital for injuries she sustained while treating a patient at Toowong in Brisbane on Sunday night.
Two male paramedics, aged 43 and 45, were punched in a separate incident at Landsborough on the Sunshine Coast about 40 minutes prior.
A taskforce looking into safety measures said tactical training programs would now begin next month.
Queensland Ambulance Deputy Commissioner Chris Broomfield said the training would focus on situational awareness and de-escalating incidences.
"Any amount of training is good to improve them in how they might communicate with patients to make sure we identify areas of risk," he said.
United Voice's Sharron Caddie praised the initiative, saying it would help prepare paramedics for the unexpected.
"We think the de-escalation training is an excellent initiative," she said.
"Paramedics can be fully skilled and given the resources necessary to ensure if they encounter an incident that they are not expecting, that they have the skills and experience to de-escalate that in the best way."
Assistant Commissioner Broomfield said excessive drinking and drugs could be to blame for an increase in attacks.
"The acceptance sometimes of the consumption is somewhat too liberal in my opinion," he said.
"But having said that, this is a community issue, this is not just about paramedics; there's nurses, doctors involved, health workers in general."
Paramedics have previously rejected calls for them to be armed with pepper spray, saying they were in the job to help people not harm them.
Three paramedics assaulted in two incidents
A 21-year-old Taringa woman has been released on watch-house bail after she was charged with two offences including seriously assaulting a public officer causing harm following the Toowong incident.
It was alleged she attacked the female paramedic while heavily intoxicated after collapsing on the toilet floor at The Regatta Hotel at Toowong around 7:30pm on Sunday.
The woman allegedly bashed the officer once she came to in an apparent "violent state" in the back of the ambulance vehicle.
The patient also tried unsuccessfully to assault a 46-year-old ambulance officer.
The 41-year-old officer had to be treated for bruising and swelling to her face and lacerations to her arms and is now resting at home.
Her alleged attacker will appear in the Brisbane Magistrates Court on February 9.
About 6:50pm, less than an hour prior, two male ambulance officers were allegedly assaulted by a man in Landsborough on the Sunshine Coast.
Queensland Police said the man pushed one officer and punched him in the chest before punching the second officer.
Neither of the officers required medical treatment.
A 32-year-old New South Wales man has been charged with two counts of serious assault person performing lawful duty.
He appeared in the Maroochydore Magistrates Court today where the matter was adjourned until January 27.
The attacks follows a rally on the Gold Coast last week calling for an end to assaults on paramedics.
'It's an issue of great concern'
Queensland Police Service Commissioner Ian Stewart said police officers were regularly called to help prevent violence against ambulance officers.
"It's a tragedy in our society that emergency service workers ... they can't go about their work without the threat of some person who is unthinking, has no respect for anyone, wanting to simply assault them or bash them. There has to be answers to this," he said.
Cabinet Minister Mark Bailey said his colleague Cameron Dick, the state's Health and Ambulance Services Minister, was looking into what could be done to offer greater protection to paramedics on the job.
"It's an issue of great concern," he said.
"They don't deserve to be treated like this and we'll be doing everything we can do to protect them in their role."
Source: ABC News