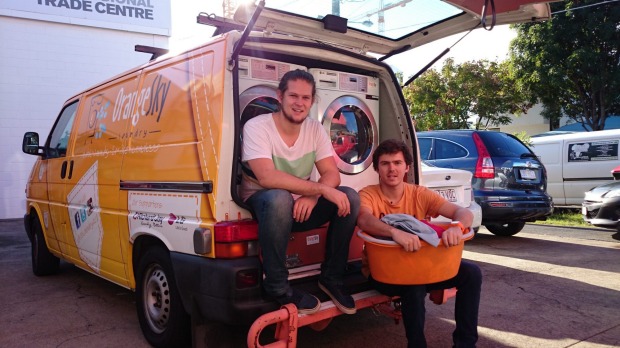 Outstanding young Queenslanders named Young Australians of the Year
Premier Annastacia Palaszczuk has congratulated social entrepreneurs Nic Marchesi and Lucas Patchett for their outstanding achievement in being named 2016 Young Australian of the Year.
"All Queenslanders should be proud of what Nic and Lucas have achieved in winning this prestigious national award ahead of so many other remarkable Australians who were representing the highest achievers from their states," Ms Palaszczuk said.
"Their accomplishments are truly inspiring. They demonstrate not only amazing initiative and integrity, but determination to go above and beyond to make a difference, reminding us all of what it truly means to be a Queenslander."
In September 2014, 21 year old best mates, Nic and Lucas, began Orange Sky Laundry, a free mobile laundry they run from the back of their old van to provide an invaluable service to help the homeless and connect the community.
Since then, this world first idea has quickly expanded to four vans in Brisbane, Melbourne, South East Victoria and the Gold Coast, and they plan to expand their services Australia wide.
With the help of more than 250 volunteers, the custom fitted vans—each with two commercial washing machines and two dryers—service 22 locations and wash more than 200 loads each week.
"Many Queenslanders go unnoticed for the selfless work they do and the Australian of the Year Awards are a great opportunity to celebrate and honour a selection of them," Ms Palaszczuk said.
"This national award is a fitting tribute to the contribution Nic and Lucas have made to our state and our nation, and I am proud to publicly recognise their significant accomplishment in receiving this prestigious honour,"
For more information about the awards visit www.australianoftheyear.org.au (external site)