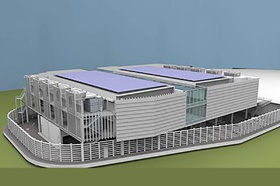 North Lakes gains the New World Class Brisbane data center EdgeDC announces
EdgeDC has announced a 300-rack data center to be built in the Northern suburbs of Brisbane, Australia.
The carrier-neutral Pinnacle Data Centre will be in the North Lakes, 28km from Brisbane's central central business district, and well served with diverse power and fiber connectivity, according to EdgeDC, an Australian-owned data center player which got going during 2014. Access is via the M1 Sunshine Motorway, and the site will have its own meet-me rooms. 
Brisbane needs DR
"The Pinnacle data centre project is the result of a two year journey to design, develop and build Brisbane's first world class data center in the outer Northern suburbs," says an EdgeDC statement. "The concept was born from the idea that there were no options for data center or disaster recovery facilities North of Brisbane."
The "perfect" North Lakes site emerged after a lot of searching, says the company. It is in a business park, where clients can take office space near their servers, and is immune to the floods which hit Brisbane in 2011. 
The first phase will be a new building, with about 1700 square metres, rou8ghly half of which will be white space for IT equipment, giving room for 300 racks, CEO Adam Davis told IT News.
The data center will be modular, he said: "We can build out in small incremental blocks as clients come on board but maintain an N+1 redundancy on all systems," he said.
EdgeDC hopes to expand to a second building, and expects a high demand as Brisbane-based businesses are just starting to move their data centers out from the central business district.
Other players expanding near Brisbane include the "data center as a service" players NextDC, which raised AU$100 million in 2015 and plans to build near Brisbane, and FKG Group, which plans to build a Tier III data center in Toowoomba, 100km west of Brisbane.
Source: DataCentre Dynamics