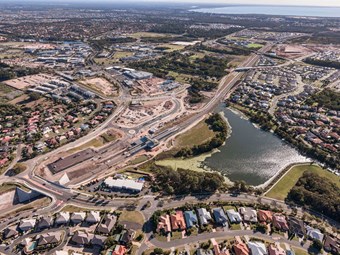 New rail line still has no name for it
Moreton Bay Rail Link to make public transport an option for many more in South east Queensland

A new station at Mango Hill and others along the brand new 14km Morton Bay Rail Link between Kippa-Ring and Brisbane are almost complete, with power switched on and safety testing starting this week.
The Moreton Bay community is a step closer to receiving train services for the first time, with the line and stations that will also connect with local bus services expected to become operational from the middle of this year.
"This is an exciting time for the project and means the new rail line, which has been eagerly awaited for the past 100 years, will soon become a reality," deputy prime minister and federal minister for infrastructure and regional development Warren Truss says.
Energising the rail line is a significant milestone for the $988 million project which is jointly funded by the Australian Government ($583 million), Queensland Government ($300 million) and Moreton Bay Regional Council ($105 million) and has taken almost three years to build.
Queensland minister for infrastructure Jackie Trad says the Moreton Bay Rail Line is one of the largest infrastructure projects undertaken in years.
"The new Moreton Bay Rail Line is the region's biggest infrastructure project in more than a generation and has supported 800 jobs during construction," she says.
"The electrification of the rail line is a critical milestone and brings the key public transport project a step closer to completion."
Queensland minister for transport Stirling Hinchliffe says with the rail line now live, the project has entered an extensive testing phase.
"Queensland Rail and the project team will be monitoring the track infrastructure and signalling equipment and undertaking speed testing to ensure trains are operating safely and efficiently along the new line," he says.
"Once opened, the rail line will revolutionise public transport in the Moreton Bay Region, delivering more than 650 train services between Kippa-Ring and Brisbane each week."
The Moreton Bay Rail Line will soon link up with the main North Coast line and integrate with the rest of south east Queensland's public transport network
At this stage there remains still no name for this new rail line.
Source: Australasian Bus and Coach